Golden Milk or Turmeric Latte- A drink that improves immunity, makes your skin even more beautiful and tastes so good. Read everything about it here.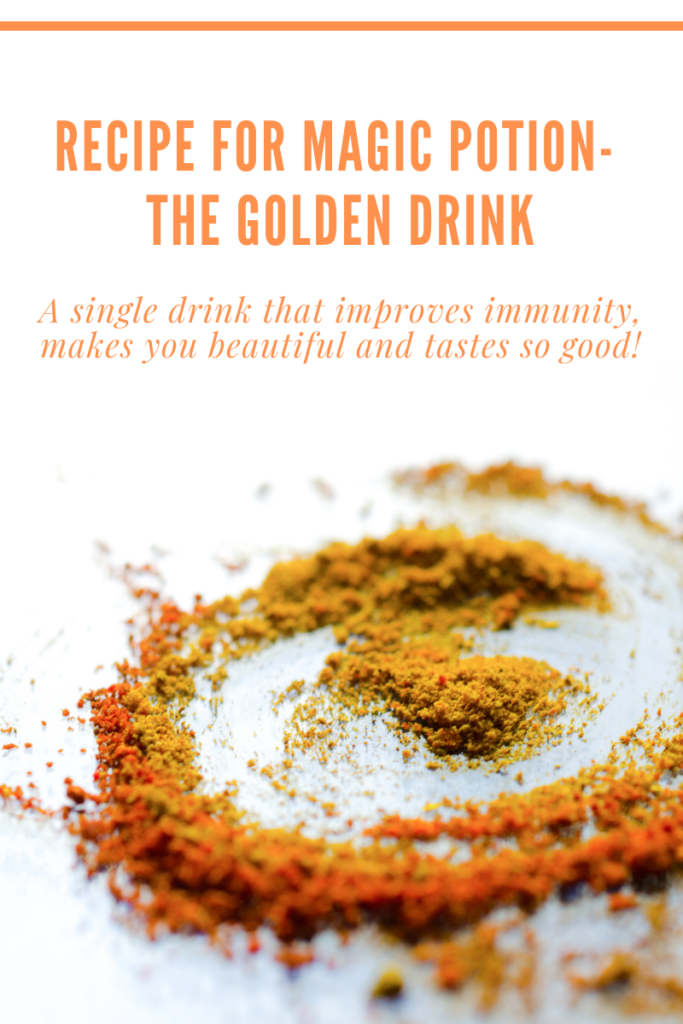 Finally, winter is here, from the million things that I love doing in winters, one of my favourites is drinking this infusion every night before I snuggle up in my blanket!
Key ingredients for preparing Golden Drink:
Milk
Organic Turmeric (Fresh or organic powder)
Saffron
Cardamom
Almonds
How to Prepare Golden Drink:
Take 1 glass (approx 200-300 ml) of milk.
Peel and chop 1 inch of fresh turmeric, in case you are using powder take 1 heap full (Order Organic Turmeric here)
Start heating the milk on low flame (the lower the better, we want to make sure that we extract all the goodness of the ingredients)
Add turmeric, 3-4 strands of Saffron (You can order it here) 1 pod of cardamom (make sure that the pod is open and seeds are mixed properly), 2-3 almonds either grated or whole.
Let it simmer on low flame for about 10 minutes till the milk turns yellow.
Remove it from the flame, let it cool down a bit.
Drink while it is still lukewarm.
Optional:
You can add sugar/cashew nuts/raisins/honey, etc if you want to this Golden Drink a.k.a Magic Potion!
Benefits:
Golden Drink has numerous health benefits. For instance, turmeric acts as anti-microbial and cleanses the blood. While Saffron is rich in anti-oxidant. Other than this Saffron has also proven some medicinal properties in anti-ageing. My mum swears by it and says it helps her to sleep better, a friend of mine noticed that it helped in clearing her complexion, for me, it helps me in keeping cold and cough at bay, I notice that my skin texture improves and this drink works like magic in easing menstrual cramps.
To sum up the benefits of Golden Drink:
Antibacterial
Anti-ageing
Improves skin texture and makes your skin glow!
Improves immunity
Eases menstrual cramps and pain
Purifies blood
Helps in sleeping like a baby (that's what my mum claims!)
Last but not least, do not expect an overnight miracle, natural remedies take time, so be patient!
Word of caution:
Here are a few side effects and risk factors associated with turmeric milk, which when ignored can cause problems:
Check for allergies before you consume Golden Milk or Turmeric Milk.
Don't go overboard with this Golden drink.
Pregnant women should avoid taking too much of turmeric.
Turmeric may interfere with certain medications, so those taking anticoagulants like aspirin should totally avoid it. They can also interact with nonsteroidal anti-inflammatory drugs (NSAIDs).
Consult your physician before you start drinking turmeric milk.
You can read more such tips here.