When life gives you oranges, use them wisely! Learn how to use Oranges for Skin, Hair and Health.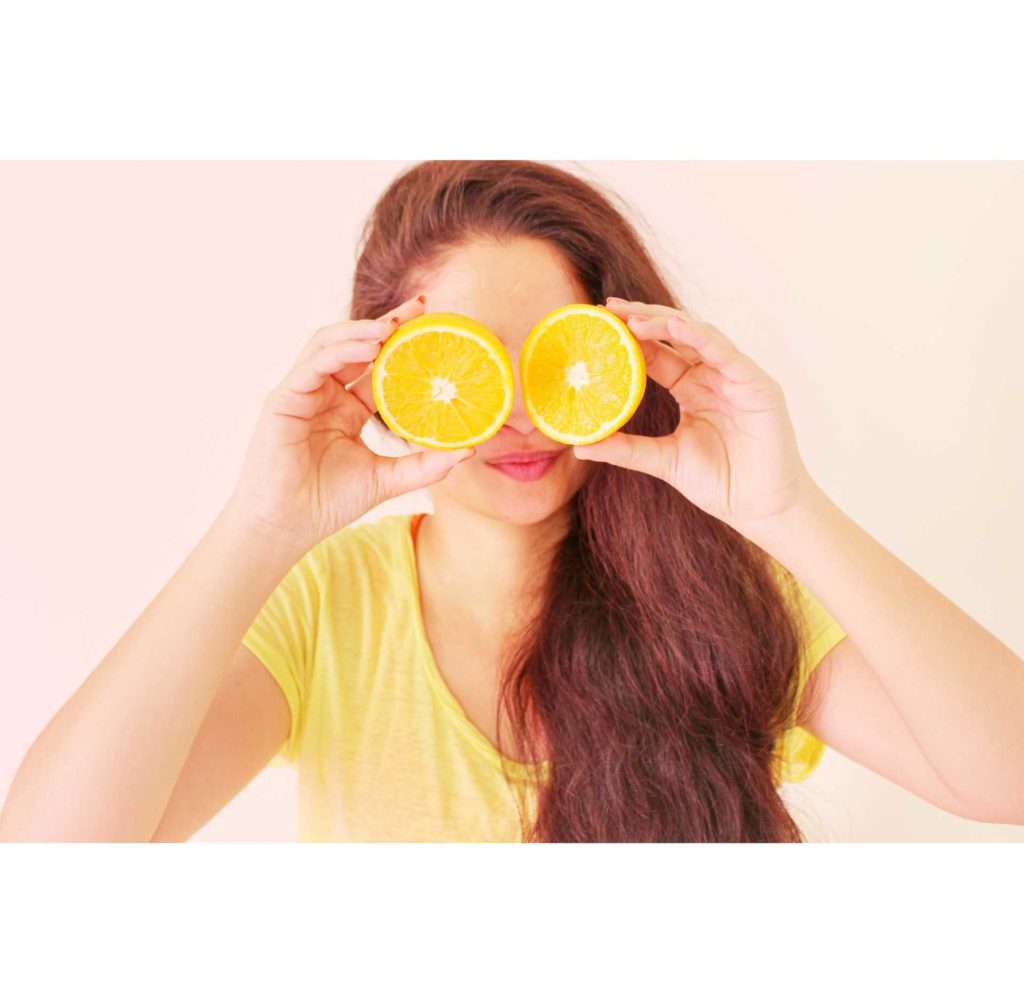 It all started as a fun experiment when I bought way too many oranges and decided to include them as a part of my weekly skincare routine. This fruit is extremely versatile (juices, smoothies, ice-creams, salads, skin tonic, hair rinse, bath soak, I can go on and on!) everyday I was surprised by the number of uses it had!
So without wasting much time, let's get started!
How to use Oranges for skin-
1. Removes Tan-
The peels of this amazing fruit can remove your tan and sunspots. All you need to do is crush the peels and powder it. Add some yogurt and apply all over the face. Scrub gently and leave for fifteen minutes and then wash it off with cold water. You will be surprised when you see the results!
2. Anti-Ageing–
As we know, orange is filled with the goodness of vitamin C, which increases the production of collagen and keeps the skin firm and moist.
An effective way to combat signs of ageing is by using some oranges. The free radicals in this fruit will definitely reduce the sagging of cheeks and reduce the wrinkles significantly. You can also use the peels for a mask. Given some time, you will slowly start witnessing miraculous changes in your skin.
3. Acne and scars–
Mash the grated orange peels to apply on your acne and scars. When applied regularly on acne and pimples, orange helps in reducing acne/pimples and blemishes.
4. Facial Mist–
You can prepare a skin refreshing spray with orange peels. Pour boiling water over the orange peels and keep it on for one day. Next day, strain the liquid and let it sit overnight. Apply this liquid on your face with the help of cotton pads; or use a spray bottle and use it as a facial mist. Wash it off after 20 minutes in case you feel sticky. This gives a soft and glowing touch to your face. You can use this liquid in your regular face masks too.
5. Instant Glow–
Take juice of 2 oranges and put it in ice cubes tray. Then rub the frozen orange cubes on your face to spruce up and brighten your dull and lackluster face. This frozen orange juice benefits by refining your pores and reducing the oiliness of face to control acne. It is one of the most important benefits of applying oranges on the face.
6. Body scrub–
Dry orange peels in the shade. Grind and mix it with chickpea flour, turmeric and coffee for a natural exfoliating cleanser that can be used on face and body. Not only this makes the skin smooth but also removes unwanted tan and evens out the skin tone.
7. Hydrating Mask for dry skin-
Mix Orange peel powder, almond, honey and milk. Wash off with cold water after 15 minutes. Regular use will remove dry skin patches and make the skin hydrated.
8. For oily and combination skin-
Mix Orange peel powder, clay, sandalwood powder in orange juice. Wash off after 15 minutes. Regular use will remove excess oil and get rid of uneven skin tone.
9. Glow pack for body and face-
Mix Orange peel powder, turmeric, chickpea flour, almond powder, rose water, pinch of cinnamon (Leave out cinnamon if you have extremely sensitive skin). This powder can be kept as a ready to use body or face scrub, mix with rose water or milk or plain water before use.
10. Anti acne and blemish pack–
Mix Orange peel powder, pinch of cinnamon, pinch of nutmeg powder, pinch of turmeric, Neem powder (or grate fresh leaves), fullers earth, mix with Rose water or orange juice. Leave for 15 minutes then scrub it off gently. Regular use will remove blemishes, reduce appearance of acne, pimples and black heads.
Now that we have learnt how to use Oranges for skin, let's see how we can use oranges for Hair.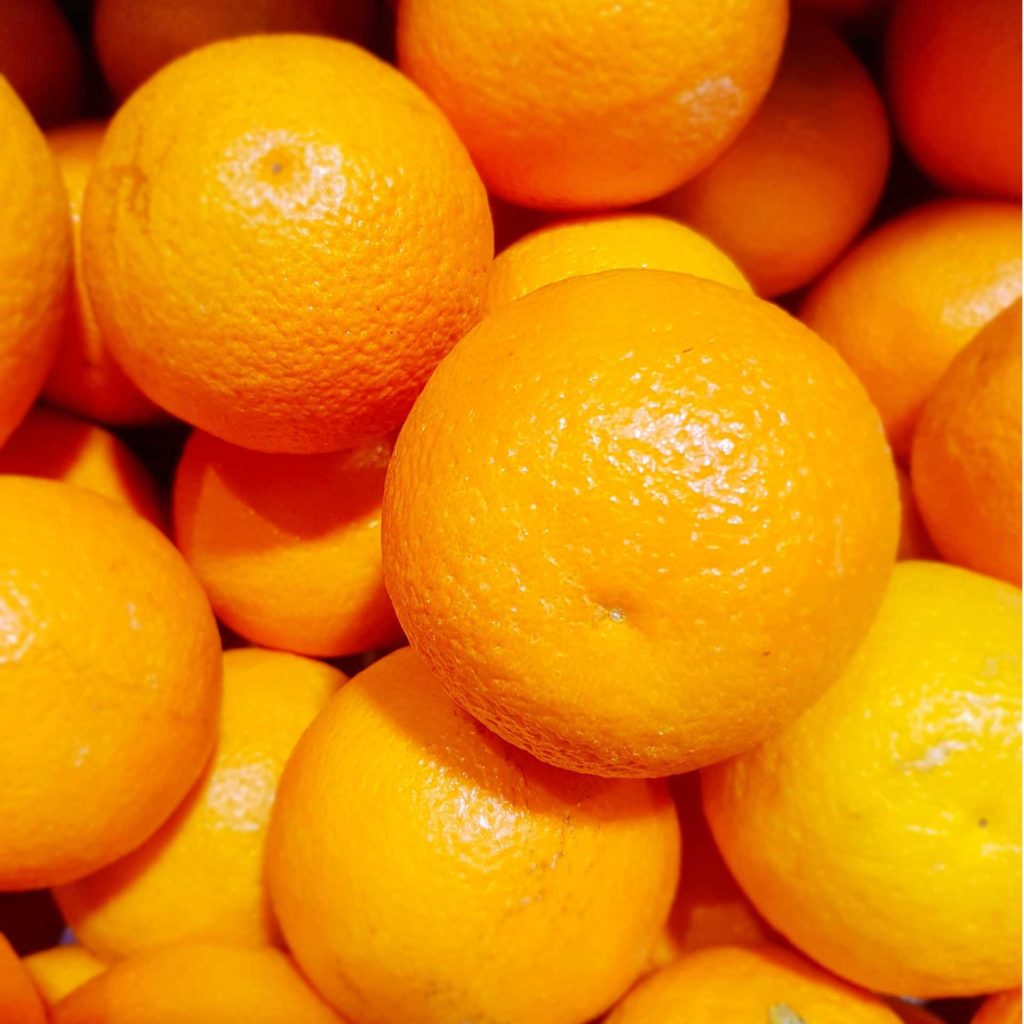 Oranges and Hair care-
11. Hair Conditioner:
You may also use oranges as an excellent hair conditioner. Just mix orange juice with honey (just 1 teaspoon else it will be difficult to wash off) and water. Mix this paste well and then apply all over your hair after shampooing. You may let it stay for five to ten minutes. Use water to wash your hair.
12. Hair rinse:
Pour boiling water over the orange peels and keep it on for one day. Next day, strain the liquid. You can use this liquid on the hair as last rinse to get rid of dandruff and get shiny hair.
13. Hair Rinse (2)
Soak orange peels in Apple Cider Vinegar and use as a hair rinse!
14. Hair Mask:
Take some oranges, make a fresh paste and apply this paste all over your hair. Make sure your hair is already oiled well. Now keep this mixture on your head for about half n hour and then rinse thoroughly with cold water. Use an herbal or mild shampoo to use wash your hair and then condition it well. You will be amazed by the results!
15. Hair Growth:
Oranges are also essential for healthy hair growth. It is rich in Vitamin B12 and Vitamin E which is very important for long, thick and beautiful hair. In order to get the best results, you may simply oil your hair first. After that, apply a fresh paste of oranges and honey all over your hair and let it stay for half n hour. Rinse with water and wash with a mild shampoo. This will help you fight hair thinning and hair balding.
16. Dandruff:
Did you know that oranges are all you need in order to get rid of dandruff? All you have to do is take the juice of orange peel and use the pulp for your scalp. This will remove dandruff and cleanse your scalp easily. You can also try another simpler method. This would be boiling the orange peels in water and rinsing your hair with it after it has cooled down. Filter the liquid and use it every time you are about to shampoo.
17. Anti hair fall mask–
With the total of 4 ingredients to be added, this mask still qualifies to be called "easy"! Take one lemon and a half of an orange, add one tablespoon of coconut oil and finish off by mixing in two tablespoons of crushed green tea leaves. Let the mixture rest for about 30 minutes to one hour then apply it to your hair and leave on for 30 to 40 minutes. Wash off and say hello to healthy and beautiful hair!
Have a tried and tested tip? Tell me!!