Lucknow- The Indian city that reckons the birthplace of Dum Biryani to Tunday Kebabs. The Awadhi Nafasat can be found even in the dishes here, a light aroma and a subtle flavor distinguish these dishes. The city where food is considered an art and preparing it requires a high degree of expertise rather than mere rich ingredients. In this post, let me take you on a gastronomic journey in the chaotic alleys of Lucknow.
It is said that Nawab Asaf Ud Daula paid his cook a monthly salary of rupees 1,200, an amount greater than the salary of any cook in the history of India! It is a proof that Lucknow people take their food very seriously! Lucknow is every food lover's dream and a place to witness the finesse of Awadhi cuisine. The food in Lucknow is much more than just Kebabs, though I agree it shouldn't be missed!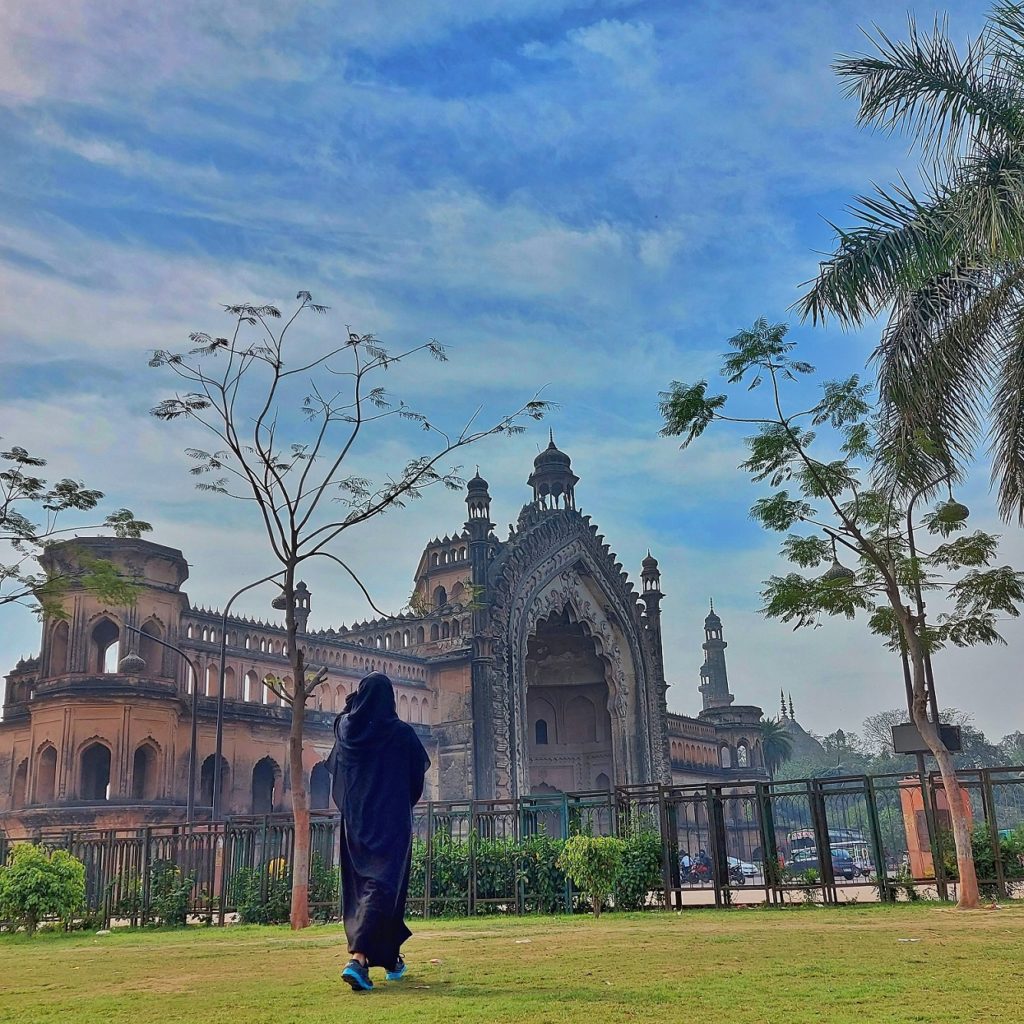 In Lucknow, your best catchment area for authentic Lucknow food would be Chowk, Akbari Gate, Nakkhas (especially at night and late at night during the month of Ramadan) or the Chaotic Gol Darwaza, Aminabad, and a few comparatively modern outlets around Tulsi Theatre, etc. What's interesting is that the famous food changes according to the season! In the monsoon, sweet shops would display mouth-watering Andarse ki goli; in the winter, you can see Makhan Malai being sold at almost every nook and corner, while in the summers, one could not miss the Kulfi Falooda and so on. One month it is something, and the next month it will be something entirely different!
When we talk about Awadhi cuisine or Lakhnowi food, Tunday Kebab tops the list because of its distinctive taste and softness. However, there is so much more to Lucknow food than kebabs. This city is a utopia for food lovers and those who want to experience the rich culinary culture of Lucknow. Listing and savoring every must-try dish might be a bit too overwhelming, but here is a humble attempt to list out a few dishes you should try in Lucknow apart from Tunday Kebabs:
Trivia: It is said that the annual budget for kitchens of the third nawab, Shuja-ud-Daula, was around seven lakh. 
Biryani- The debate on which Biryani is the best is rather a never-ending one, so we leave that to you! But talking about Biryani in Lucknow, it is not like the biryani available anywhere else. Lucknow Biryani has a very subtle flavor, mild spices, and a light aroma.
Best places to try: Idris, Wahid, Alamgir, Lalla Biryani, and Dastarkhwan.
Band gosht- Band gosht is a dish that is slow-cooked for five to six hours—it is a delicacy you shouldn't miss out on. All you need with it is your favorite Indian bread on the side.
Best places to try: Alamgir Hotel
Nihari Kulche- The dish is normally made up of juicy pieces of meat in a viscous, delicious gravy, and best goes with Kulcha.
Best places to try: Raheem- Located in a narrow lane at Akbari Gate in Chowk, this 125-year-old restaurant serves the best Nihari Kulche.
Sheermal- 'Sheer' means milk and 'mal or maal' connotes to 'rich food'. Sheermal was celebrated as an upper-class bread whose history can be traced back to the Nawabi kitchen. The sheermal dough is kneaded in milk and is made of ghee, flour, and yeast, and the rest of the ingredients, like cardamom, saffron, etc are added as per the requirement. The preferred accompaniments are kebabs and nihari, though the Sheermal by itself is so delicious that one can enjoy it with a cup of tea for breakfast!
Best places to try: Ali Hussain is the best in the city. There are also plenty of other shops in 'Sheermal Wali Gali'
Basket Chaat- As the name suggests, this unique chaat comes into an edible basket! The mouth-watering chaat is loaded with ingredients like aloo Tikki, paapdi, Bhalla, chane, dahi, and green chutney, garnished with pomegranate seeds and masala. Basket chaat in Lucknow was in initially sold by Royal Cafe but now there are a lot of other places that serve this unique chaat. 
Best places to try: Royal Cafe- The founder of this unique dish.
Khasta- The crisp yet soft and flaky—a characteristic of a good khasta. It is served with spicy potato and chhole. It is one of the most favorite breakfast items in Lucknow. Multiple restaurants sell Khasta in Lucknow but, there are a couple of names that are quite famous and definitely a must-try.
Best places to try: Rattilal, Durga Khasta on Latouche road (5 minutes away from Rattilal) is also good, but there have been a couple of not-so-good reviews about the latter.
Kachori- Crispy, flaky, served piping hot, with Aloo and Chhole on the side. Kachori is one of the trusted and wholesome choices when it comes to breakfast.
Best places to try: Bajpayee Kachori- now run by third-generation owners is one name that pops up in every Lucknowi's mind when asked about the best kachori in the city.
Aloo Tikki Chaat- In most of North India, you can get Aloo Tikki Chaat almost in every city, but the ones available in Lucknow are unmatched! It is characterized by crispy potato, yogurt, and ground spices, and is garnished with ginger, coriander, chilies, pomegranate, etc.
Best places to try: Prem Sweets, Royal Cafe, Dikshit Chaat House, and Chhapan Bhog.
Malai Paan or Bilai ki Gilori– Don't let the name confuse you! This paan is nothing like the normal paan! Made using milk, malai (cream), and dry fruits. The story behind the invention of just as unique as the dish itself. It is said that the Nawab was asked to abstain from Paan, as tobacco consumption was affecting his health. It is said that Ram Asrey invented this dish to surprise the Nawab and served it to him after his meal. The Nawab was so impressed that this dish found a permanent place on the list of famous Lucknow food items.
Best places to try: Ram Asrey. It is also available in Chhappan Bhog and Prem Sweets.
Kaali Gajar Ka Halwa- Available during winter, this dessert is quite different from normal gajar ka halwa. Kali Gajar ka Halwa is made from carrots of a darker color. Though it's not black, but has a deep purple color. Sitting with dollops of ghee and garnished with cashew, almonds, and often a spoonful of Rabri, this unique dessert shouldn't be missed.
Best places to try: Ask for "Halwe wale Haji Sahab" in Alamgir wali Gali, Chowk, Moti Mahal, and Radhey Lal.
Gulabi Chai (It is Not Kashmiri Chai!)– Talking about Lucknow food, Gulabi Chai in Lucknow should be on your list too. Contrary to the popular belief, it is not Kashmiri chai, but the Lucknow version of Kashmiri Chai. Gulabi chai is a sweeter version of the former and is a creamy pink-colored tea that has cashews, pistachios, nutmeg, cinnamon, cardamom, saffron, and kewra, amongst the other ingredients. It is usually sold during winter as it is believed to have Garam-Taseer (now google it up to understand what we meant by that!)
Best places to try: Different vendors set up their stalls in the old city area of Chowk, Nakkhas, Nazirabad, and the area near Chhota Imambara. However, one of the oldest and most recommended is a chaiwala, who sets up his shop near the Akbari Gate slope.
Thandai- Comes from the word "Thanda". This drink is a savior during scorching heat during summer. It is made using heavy-boiled milk, dry fruits, fennel seeds, watermelon kernels, rose petals, pepper, cardamom, saffron, milk, sugar, etc.
Best places to try: In Chowk, just at the chaotic Gol Darwaza, look for Raja Thandai, who has been selling nothing but that drink for almost eighty years.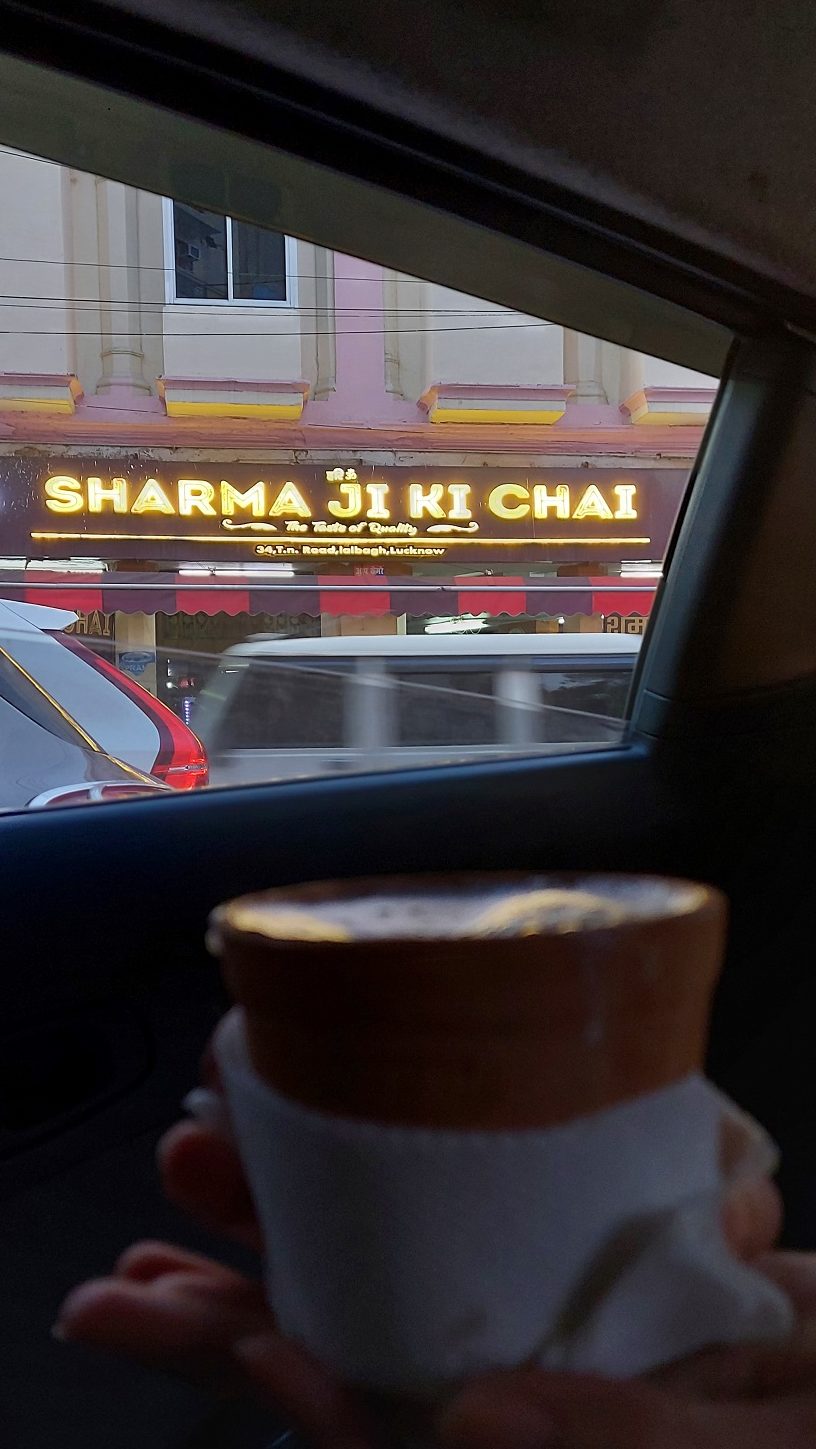 Maska Bun with Chai– We Lucknow-walas take our tea very seriously! Chai aur Bun-Makhan is served in almost every nook and corner of the city. Simmering tea and fresh buns with a generous dollop of butter is something one can't say no easily! Though Lucknow is filled with chai places, if you want exceptional tea that would keep you coming back for more, there are a few places that shouldn't be missed.
Best places to try: Keval, Shukla, and Sharma Ji ki Chai
Malai Makhan or Nimish- Nimish, also known as Makhan Malai in Mathura, Daulat ki Chaat in Delhi. Served during winter, this melt-in-the-mouth dessert dates back to the Mughal Era. The signature dessert takes hours to prepare and vanishes in the mouth within seconds! When the early morning dewdrops fall on the mixture, it creates a delicate froth.
Best places to try: Near Gol Darwaza in Chowk early in the morning from November to March. You might also find it near Roomi Darwaza during the evening.
Shahi Tukda- 'Shahi' means 'Royal' while 'Tukda' means 'A piece'. This royal piece of exquisite delicacy should be on your list if you have a sweet tooth. You can find Shahi Tukda anywhere in Lucknow, but the most suitable place is the crowded streets of Aminabad. You can find many vendors in Aminabad selling Shahi Tukda, especially in the lane of Tunday Kebabi.
Best places to try: Aminabad, Tunday Kebabi lane.
Kulfi Falooda- There is no more suitable method to deal with the scorching heat than to indulge in a creamy Kulfi. Think about handmade ice cream that's loaded with dry fruits, saffron, cardamom, etc.
Best places to try: Moti Mahal, Prakash Kulfi is a bit overrated but nevertheless, it's famous, Chhappan Bhog, Chanakya Kulfi.
Patti Khoye- A dry sweet made from white sesame seeds or peanuts and jaggery. Patti Khoye is crunchy, chewy, and has a mild sweetness. The small coin-sized diskettes of sugar have a delightful crunch.
Best places to try: Once again, Gol Darwaza, Chowk.
Meetha Paan- In Awadhi and Mughlai culture, Paan is more than just a mouth freshener. It is a renowned cultural norm to serve Paan after meals. If you are in Lucknow, you will spot numerous Paan vendors or Paan ki Gumti in every nook and corner. Paan is a permanent feature of weddings and special occasions in Lucknow. From authentic Paan to recent innovations like 'Fire Paan', 'Chocolate Paan', you should give it a try if you are in the city.
Best places to try: Azhar Paan shop in Akbari Gate, Soni Moni Paan shop in Indiranagar, Mehrotra Paan near SBI Hazratganj, and Kamlesh Paan Bhandar near K.D. Singh Babu Stadium, Hazratganj.
Hope you enjoyed reading this as much as I enjoyed relishing different dishes in Lucknow and putting this blog post together. Stay tuned for part-II that will have some more drool-worthy Lucknow Food items! Do not miss some exciting travel related posts here.
Don't miss some interesting posts here