Mughaibar fort in Hatta, a secret farmhouse that no one tells you about! It is a secret fort cum farmhouse that is nestled in the Hajar mountains amidst lush greenery that will soothe your senses and help you unwind. In this post read everything you need to know about this secret farmhouse in Hatta that has been beautifully renovated and has now opened its doors for the public.
About 2 hrs drive from Dubai International Airport Hatta is the perfect choice for anyone looking for a quick escape from the hustle-bustle of city life.
Mughaibar Fort Hatta-
Mughaibar fort in Hatta is a beautiful farmhouse that's surrounded by rich gardens overlooking the mountains. Recent renovations mean this fort is an ideal union of royal fort vibes blended with a modern twist. There is a private pool, kitchen, dining area, barbecue pits, a small animal farm, making it the perfect choice for anyone planning an escapade or even a big family get-together. Keeping in mind that the property is pretty huge, 'the more, the merrier.' is the mantra for this place! 
It's also a great pick for families with children, there's a kid's pool, there are animals that you can pet and there's also plenty of place for kids to just run around! It is good for small as well as big groups, each bedroom comes with a separate washroom, there is also a kitchen with basic amenities. 
The place is impeccably clean and well maintained, few areas are still under maintenance. If you are visiting with kids, please ensure that you do not let them unsupervised.
A bit about Hatta
Hatta is a town in the United Arab Emirates that comes under the emirates of Dubai. It is located in the foothills of the Hajar Mountains. It is separated from the main part of the emirate by territory belonging to Sharjah and Oman. Hatta is best known as a heritage village. Less than a two-hour drive from Dubai, it's the favourite pick for a weekend escape and close enough for a mini-daycation. In winter, Hatta is the go-to spot for hiking, kayaking, biking and other such adventure activities, while in summer it's worth a visit for its cooler temperature.
How far is it?
It is roughly 2 hrs drive from Dubai, you might want to keep some water, food, etc for your drive as there are a limited number of shops, etc. on the way. The drive is beautiful and Mughaibar fort is easily reachable even by a sedan.
Things to keep in mind
Do not miss the terrace from Mughaibar Fort Hatta, it is an enchanting sight!
ThoDo not miss the terrace from Mughaibar Fort Hatta, it is an enchanting sight!
Though the place has a couple of grocery stores they have limited options available, so try to carry everything that you might need during your stay.
Mughaibar Fort provides almost all the basic amenities (toiletries, towels, cooking utensils, barbecue items but remember to carry extra coal, wood, food items, etc.)
The place can get a bit cold at night so prepare accordingly.
Carry water, snacks, etc as the nearest grocery store is around 10 min drive from the farm.
The place is exquisite, do not litter, do not damage the property, try to leave it better than you found it.
The service staff is there at the property, it would be nice to tip them if you can.
Be mindful of your surrounding, do not play loud music after 10 pm..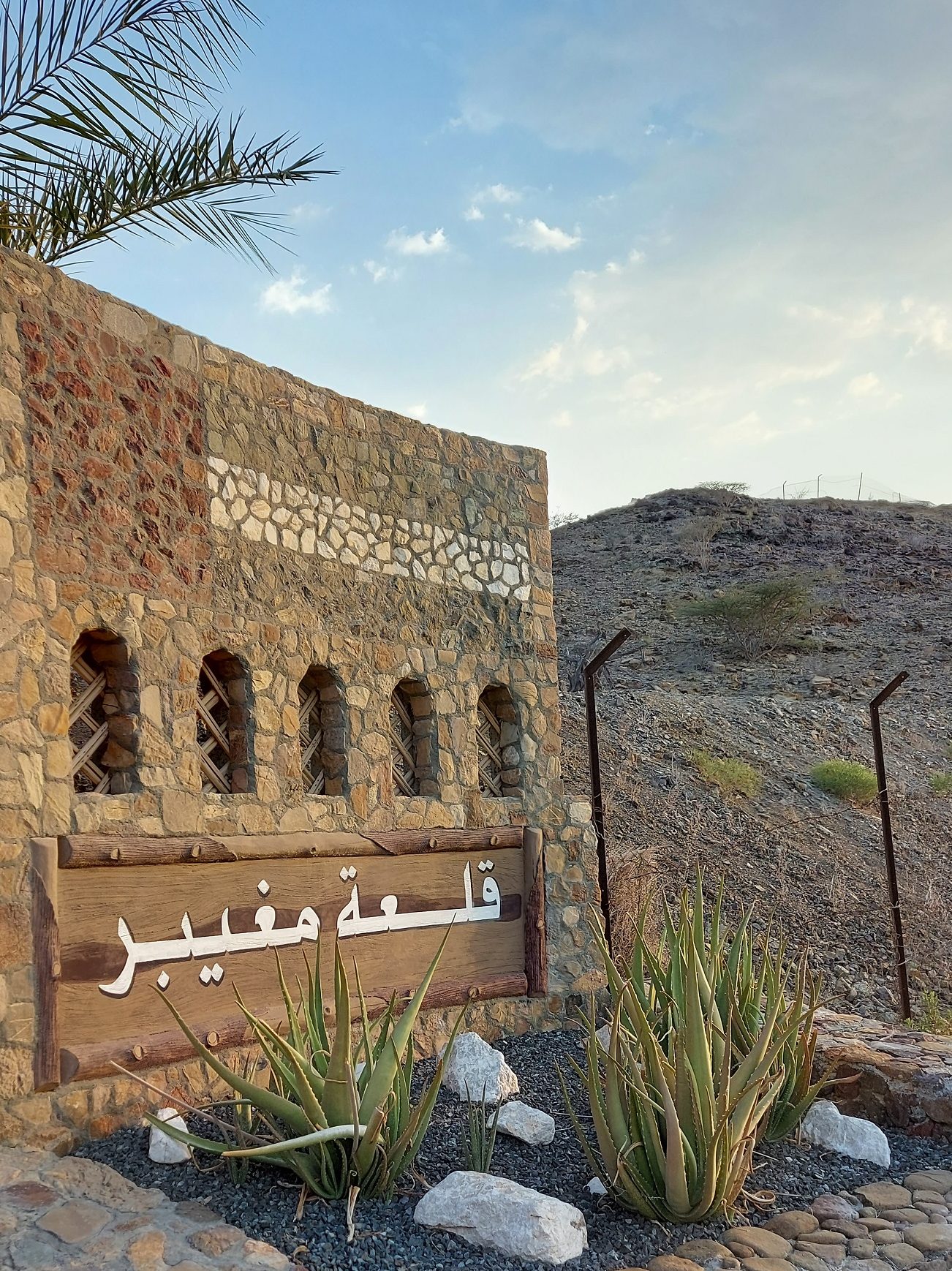 My experience
The place looks straight out of some fantasy land! Great attention has been paid to the details and great care has been taken to maintain the place. The fort will give you a taste of living like royalty and it is insanely peaceful. As not many people know about it yet, Mughaibar Fort Hatta should be on your list if you have a thing for hidden gems and lesser-known places. The place has an excellent team that lives right next to the property and is always ready to assist you. From serving fresh dates from the farm to getting extra water bottles, from helping us to find nearby restaurants to tell us about the story of the fort, the staff ensured that we had a memorable stay. The sunrise from the terrace is surreal and shouldn't be missed!
How to book?
You can book or enquire by sending them a direct message on their Instagram page.
Hope you enjoyed reading this as much as I enjoyed writing it, do not miss more travel related hidden gems here, also let's stay in touch and connect on Instagram, Twitter, Youtube and TikTok.