UAE as a country is blessed with remarkable topography that ranges from desert to mountains, from valleys to mangroves but did you know that UAE is home to Salt lakes (and some of those are Pink in colour!) as well? Read on to learn more about this mystical phenomena in the UAE.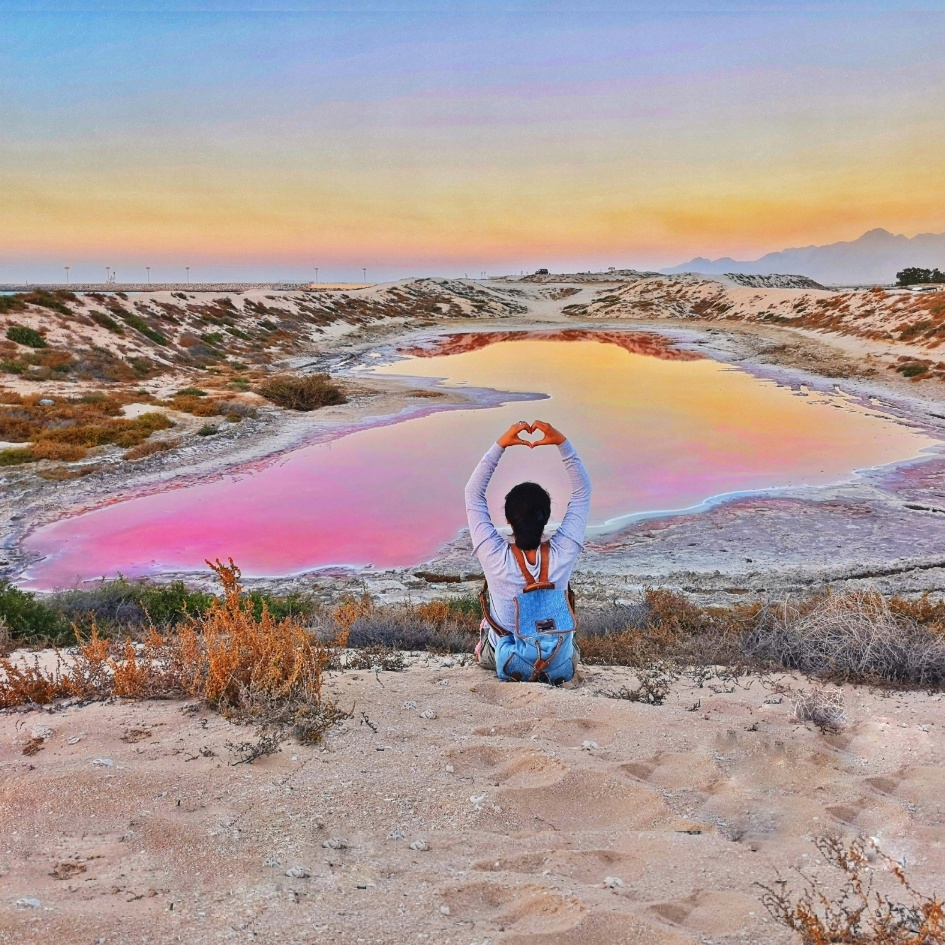 Salt Lakes- What are they?!
A salt lake or saline lake is a landlocked body of water that has a very high content of salt and other dissolved minerals significantly higher than most lakes. We have a few in the UAE and the term used for a Salt lake is a sabkha. It is a coastal, supratidal mudflat or sandflat in which evaporite-saline minerals accumulate as the result of semiarid to an arid climate. Sabkhas are gradational between land and intertidal zone within restricted coastal plains just above normal high-tide level. Within a sabkha, evaporite-saline minerals sediments typically accumulate below the surface of mudflats or sandflats. Evaporite-saline minerals, tidal-flood, and aeolian deposits characterize many sabkhas found along modern coastlines.
Why is the lake Pink in Colour?
The main reason behind the distinguished pink colour of pink lakes is due to a type of algae and bacteria. The pink hue is because of the presence of Dunaliella salina. It is a type of halophile green microalgae found in sea-salt fields.
This particular type of algae has very high concentrations of salt and B-Carotene which protect against intense light. It is one of the few organisms that can survive in such highly saline conditions. The pink lake is also home to different types of bacterias, including Bacillus Mwgaterium and Bacillus Subtllis.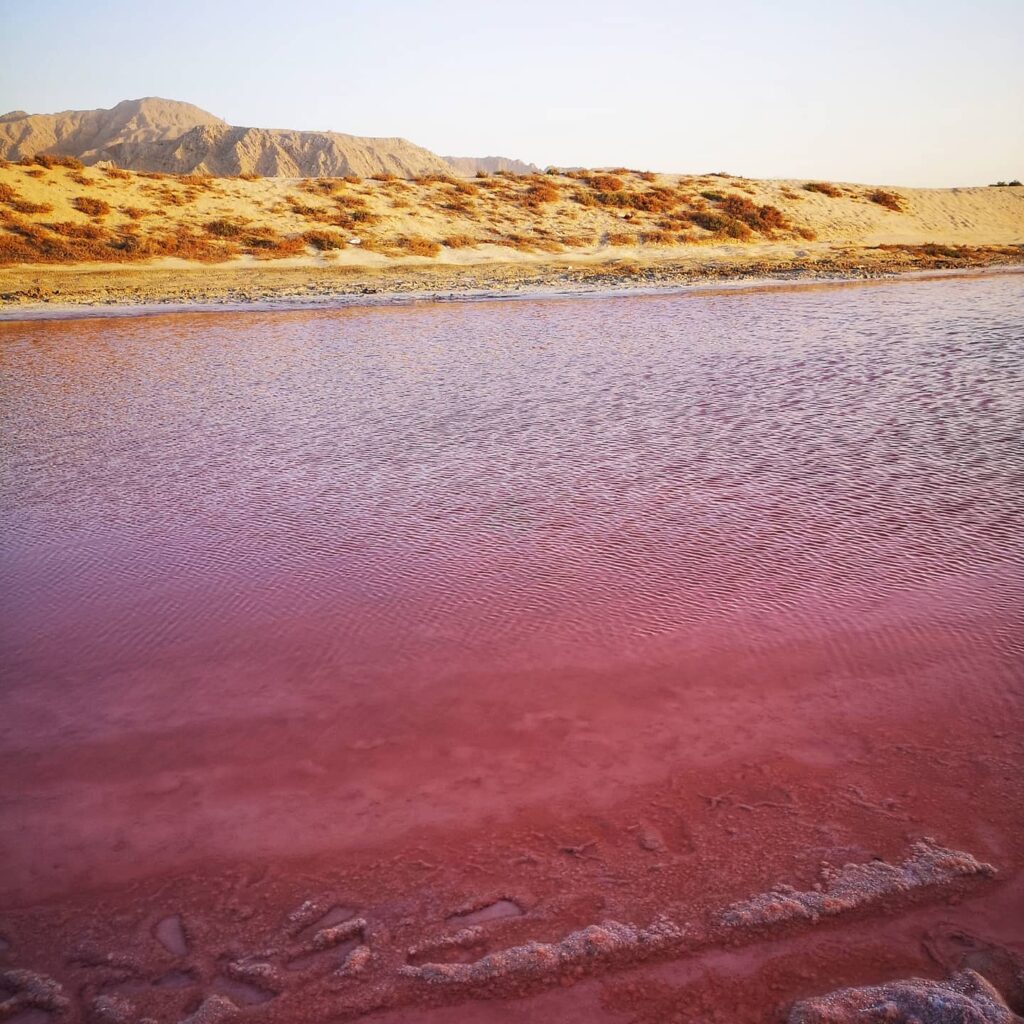 My personal experience!
Picture this! You've been planning for exploring this new place and you have been mentally (and physically!) preparing yourself for it. Once you've finally set for your journey, the weather turns hostile and you have to change your entire plan! Once you reach this backup destination of yours, you start exploring the nearby area and stumble upon something that is way fascinating than what you planned for! Well! This is Exactly what happened!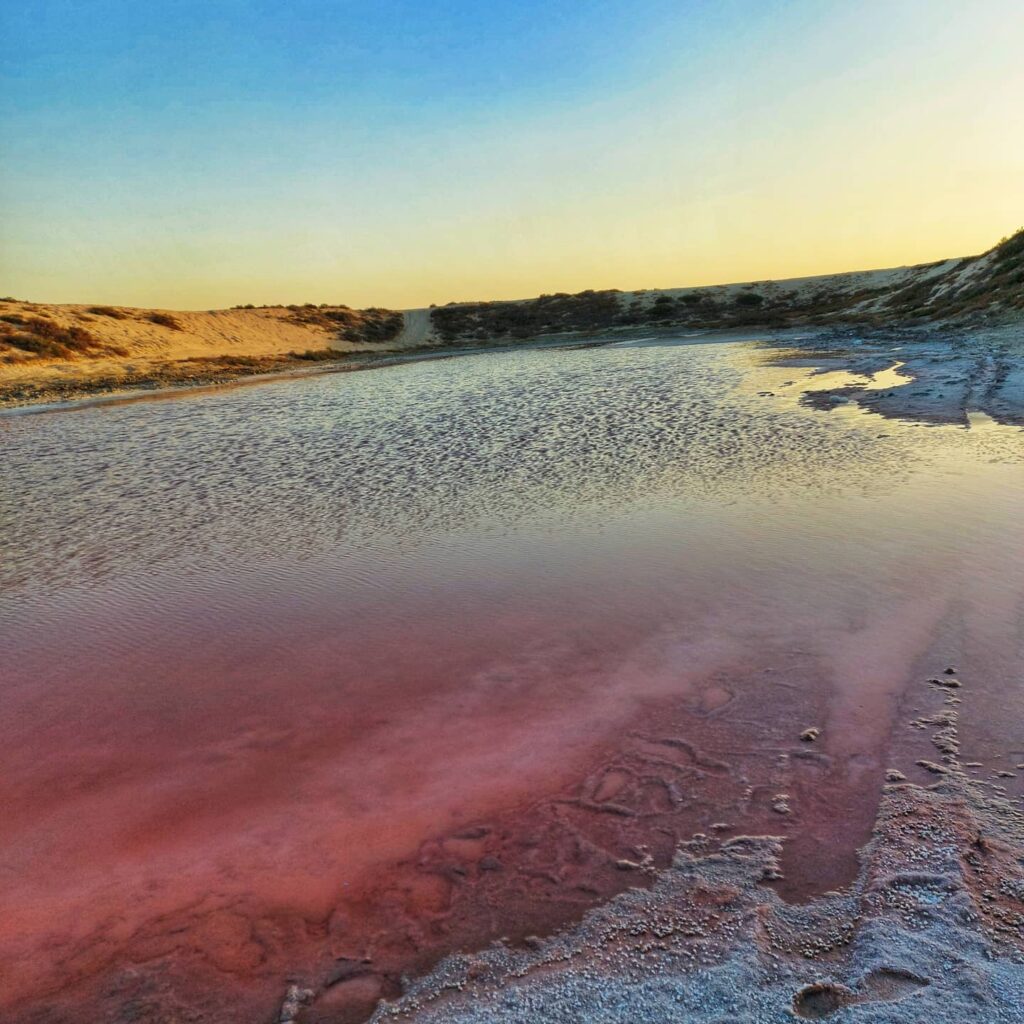 It looked like a puddle from far and as I continued to walk towards it, I noticed that the water in this lake was slightly pink in colour. The closer I got, the more magnificent the view was. As I continued to walk towards it and yet a small part of me was disbelieving! I stepped on what definitely didn't seem like sand and noticed that it began to crack and felt like quicksand. I began walking quickly again towards this bizarre sight that beckoned me! The moment I started walking towards it, I immediately understood the area around it wasn't sand but salt. One wrong step and you end up in a puddle of corrosive salt mixed with Bacteria and Algae. Not something that I would recommend! So, be very careful. That was perhaps everyone's mistake who previously got here (you can tell from the footprints that people perhaps either slipped or fell! Oops!). You'd know it right away the first time you step on what looks like a mix of salt and sand. Instead of that soft, caressing embrace of sand we are all familiar with, it's the hardened salt crystals that welcome you.
The Pink Lake in UAE is located in Sayara Island, Al Rams, Ras Al Khaimah, it is about 1 hr 20 minutes from main Dubai. It is a tiny Salt lake that changes colour and is located on Saraya Island and you will not need a 4×4 to get to the exact spot, however, you have to be very careful as driving in the sand can be a bit tricky. The exact google map coordinates for the location- 25.87867, 56.00828
Word of caution:
If you plan to visit Pink lake, keep these things in mind. The place is under military and heavily guarded, please do not do anything that is not allowed as you might get into serious trouble. You will come across plenty of boards that will caution you not to tea any pictures, please abide by the laws. Also, it was heartbreaking to see how people had littered this place with plastic bottle, disposables, and whatnot, this is one major reason why travellers and explorers shy away from sharing locations to such hidden gems. Please leave the area better than you found it.
Take nothing but pictures and leave nothing but footprints.
Hope you enjoyed reading about Pink Lake in the UAE as much as I enjoyed exploring it, request you to kindly show your support towards World with Maria so I can continue exploring and bringing more such places to you. If you are a fan of hidden gems, do not forget to read this Post called "Lesser-known Camping spots in the UAE- No one tells you about!"
Follow me on Instagram, to stay updated and know more such places.