With an estimated 700km of coastline and keeping in mind the weather, there's never a perfect time to head to the beach but with most beaches being overpopulated, we're all looking for secret beaches in the UAE that are less crowded. So, in this post, I will be revealing about some secret beaches that not many people know about- yet!
I have a special corner in my heart for hidden gems, secluded and abandoned places (check some of them out here!) and as I am a beach-baby so I decided to bring you guys a list of secret beaches in the UAE. These beaches will be more or less empty all year round and are perfect for those who want to be away from the crowd! I have tried to include Google Coordinates for as many as possible but please do cross-check! Before you start reading and sharing, I hope (and pray) that each one of you will promise to be responsible and leave these places better than you found them. Let's please take a pledge and preserve the environment.
Heart Beach- Khorfakkan
The town of Khorfakkan, approximately 25km outside Fujairah, is a treasure box of natural beauty and has its own quiet stretch of beach. Turquoise blue water, magnificent beaches and breathtaking view! Unleash the inner discoverer in you and head to Heart Beach, which gets its name from the graffiti on the hills around it. It's accessible via small steps behind a petrol station after the north end of Khorfakkan beach. A 15-minute trek to reach this gem but it is totally worth it! A scenic little slice of the beach where the sand is white and the ocean a stunning blue-green.
Drive: Follow signs to Masafi, turn left towards Dibba. Follow the road nestled among the hills along the coast until Khorfakkan. Google Maps Here.
Shark Island- Khorfakkan
Another gem in the list of secret beaches in the UAE, that will enchant you! A heaven for people who like to snorkel, the marine life at this island is straight out of the discovery channel! Read everything about this place and how to get there here.
Luluyah Beach- Khorfakkan
Luluyah Beach is a serene beach where you can enjoy a relaxing day, a swim, chilling all by yourself or a picnic with your family/friends. This exceptional beach needs a special mention in the list of secret beaches in the UAE, and will leave you in awe for sure! The rocky backdrop of Luluyah Beach sets it apart from the other beaches. The Black Rock is a camping site at the beach. The opportunity to witness a mesmerising sunrise at dawn and the picture-perfect sunsets make Luluyah Beach worth visiting!
Location: Khorfakkan, Google Coordinates: https://www.google.com/maps/place/25.2934682,56.372196725.383236, 56.359761
Black Palace Beach- Dubai
Another gem in the list of secret beaches in the UAE, that is perfect to relax and enjoy the sunset, unlike other beaches, this one is pretty empty and you would hardly find it crowded- Ever! This quiet beach offers a breath-taking view, with the Burj Al Arab on the right, and The Palm Jumeirah in front of you. To find this secret beach in the UAE, look out for a right-hand turn on King Salman bin Abdulaziz Al Saud Street, just after the Madinat and the palaces, as you head towards the Marina. Follow a rocky track down onto the sand, and soon you'll be able to see an empty beach, with pristine water and tenderly alternating waves. Make sure you bring your own food and water, as there are no facilities nearby.
Location: King Salman bin Abdulaziz Al Saud Street, just after the Madinat. Google Coordinates: 25.1265024, 55.371366
Empty Beach- Dubai
The name speaks for itself, a secluded beach in Dubai that is still away from the prying eyes. Honestly, the place is (still!) so hidden that many people debate whether its location should be openly shared or not! The water is always utterly clear and calm. You can spend some alone time here or maybe chill with friends, the place is perfect for both.
Location: Off Jumeirah Beach Road; take the first right turning after Umm Suqeim Library. Google Coordinates: 25.1265024, 55.3713664
Shuweiyat Island- Abu Dhabi
When talking about the secret beaches in the UAE, you cannot miss this one! However, there is a catch! This one really does take some commitment, but the awards to anyone who makes the grand journey (from practically anywhere else in the UAE) to this stunning location are multitudinous. If you're familiar with the colour of sandstone the ancient city of Petra in Jordan is famous for, you'll know what to expect from the low-lying cliffs and caves that look like nothing else you'll have seen in this country. You won't believe your eyes – it's that beautiful down there. To know everything about this place in detail, read this.
Mangrove Beach- Umm Al Quwain
A beautiful beach that is bejewelled by the mangroves at Khor Al Yeefrah, in Umm Al Quwain, roughly a 60-minute drive from Dubai. This newly opened beach has all the public-friendly facilities, some are still under construction though. The Mangrove Beach at Umm Al Quwain is the second mangrove area open to the public in the UAE. Check out the stunning images to see its beauty yourself.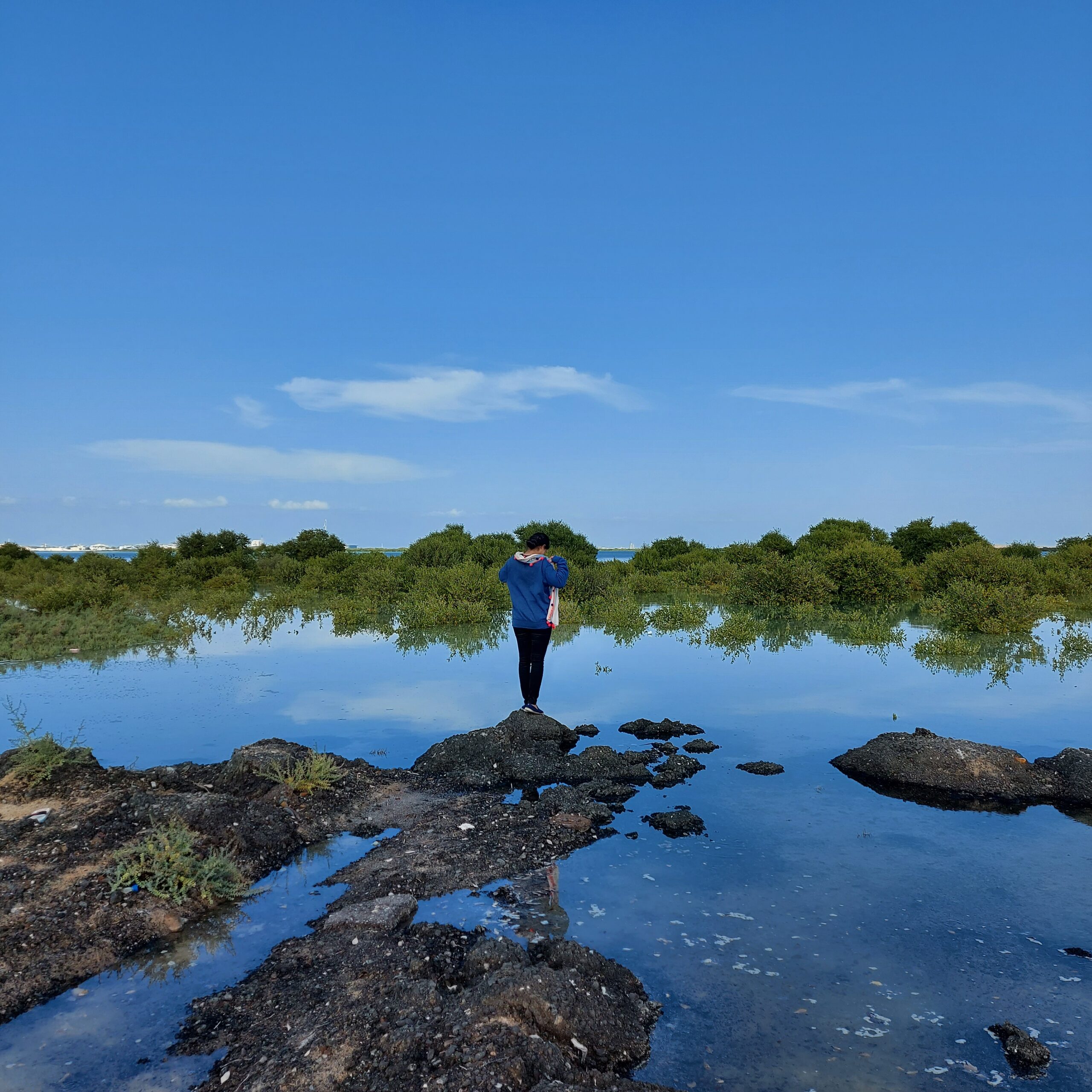 Qidfa Beach- Fujairah
The Qidfa Beach is in Fujairah and is still (luckily!) a secret beach for most people! Once you reach the spot, you are welcomed by mild waves, astonishing designs of seashells, and of course the bewitching wilderness. It is one of the less crowded beaches in the city, perfect for a walk, yoga session, an early morning workout or perhaps some me-time!
Location: Fujairah, Google Coordinates: https://www.google.com/maps/place/25.2934682,56.3721967
Murbah Beach- Fujairah
Located along the same stretch as Qidfa Beach, Murbah Beach is a tranquil spot that visitors can relish. One of the small beaches in Fujairah, Murbah beach is a good option for anyone who wishes for a calm day by the calm, relaxed, blue-green waters.
Location: Murbah Beach Street, Fujairah
Dadna Beach- Fujairah
Dadna beach in Dibba al Fujairah is a charming spot with clear water, fascinating marine life and a peaceful atmosphere away from the crowd. One can enjoy the landscape of the mountains and the sea while taking a stroll down the beach and for the adventure seekers, you can go diving, rock climbing, etc. The time from November to January is most suited for a visit to this place as the weather is relatively mild and cooler during this time.
Important:
Do not leave anything behind, leave the place better than you found it. Carry the trash that you find with you and throw it properly once you reach the mainland. A little act of kindness goes a long way. Remember, even organic waste can take a lot of time to biodegrade also, it will attract animals and insects and will make the place dirty.
Leave natural and items of archaeological or historical value where you find them. Don't move them or take them with you.
Minimize cooking over the campfire, use the stove instead – as less impact on the wilderness.
You are very likely to encounter wild animals/reptiles in such secluded spots, do not disturb them.
Follow the basic camping guidelines as laid down by the government at all times.
Follow the signs, etc.
Lastly, remember to be kind towards everything around you.