I wish somebody told me about this summer beauty hack earlier, I would have saved some serious bucks!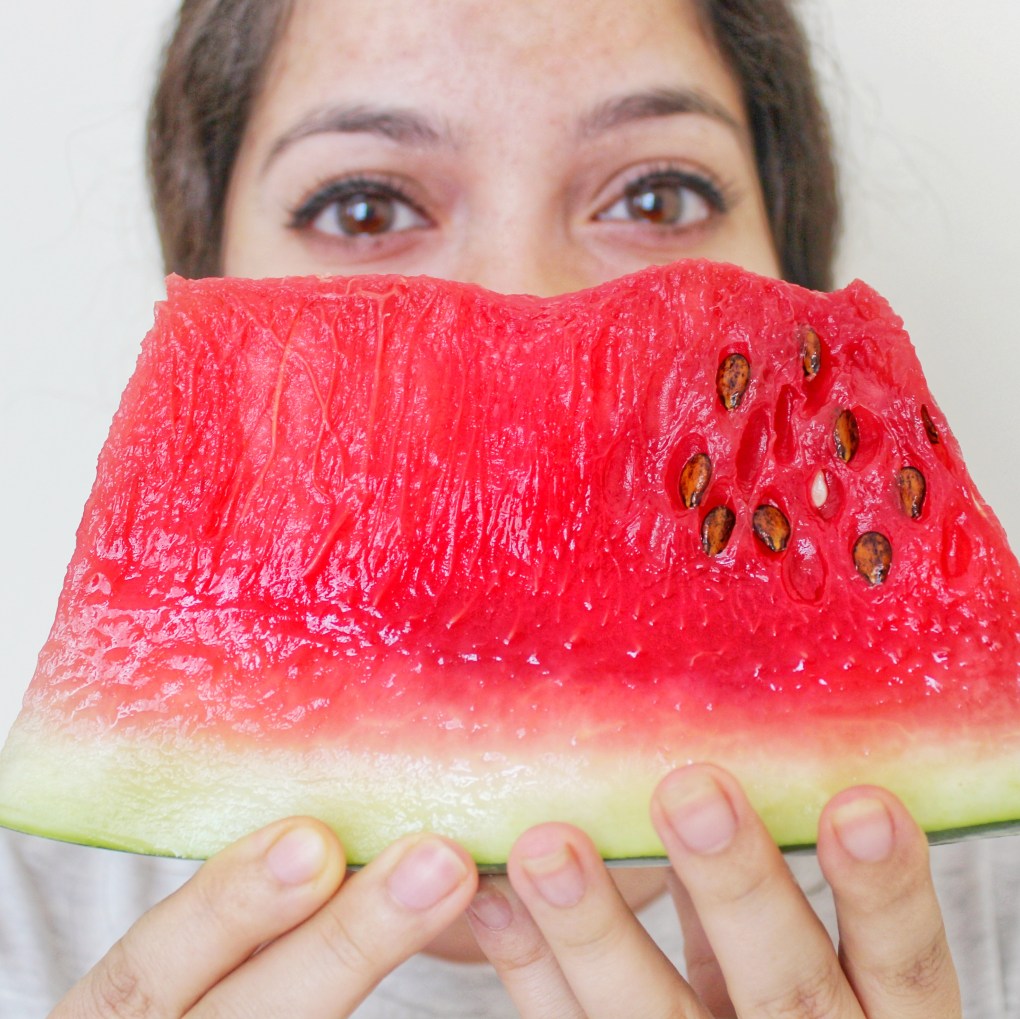 While the western world is praying for the summers to arrive, we in UAE are already stocking up sunscreens! Living in a region where it is hot almost throughout the year, keeping the skin hydrated can be quite a task. Who knew this innocent looking watermelon would do the trick! I wish somebody told me about this earlier, I have been tossing away the watermelon remains in the bin.. but not anymore!!
So without beating around the bush, let's come to the point people! (I have included some life-saving hacks at the end of the post! Don't forget to read that.)
Why use Watermelon for skin?
Korean beauty expert and Glow Recipe co-founder Sarah Lee says, "Watermelon as 92% water content and is rich in vitamins A, B6 and C, amino acids and lycopene. It's also incredibly antioxidant-rich and is a great hydrating and soothing ingredient for skin year-round. The lab we worked with in Korea sources only locally grown watermelon in order to obtain the freshest, most vibrant fruit for the formula.
Here are few watermelon beauty benefits for skin care that you can achieve and relish:
It is a natural toner- The red juice is a natural astringent and significantly improves the appearance of skin. Massage your face well with a watermelon slice and rinse off with water. It keeps your face hydrated and provides nourishment to the skin.
Control oil on the skin- Vitamin A in watermelon reduces the size of skin pores and thus minimize oil secretion from the glands. Those with oily skin should be best friends with watermelon in summers. Using watermelon slices on the face twice a day will bring great results for oily skin people.
Rejuvenates and Revitalises skin- Apply watermelon juice daily on the skin to rejuvenate and revitalise it. You can also add honey to make a face mask and wash off with cold water in 15 minutes. It adds an instant freshness to the face and takes away all the tiredness and stress in few minutes. It also works as an anti – gaining agent in your skincare regime.
Lightens the Skin- Regularly using watermelon juice helps in lighten the suntan and resulting in glowing skin. You can drink a glass or rub watermelon slices on your face, it works wonders both ways. You can also use the juice in your favourite face pack to improvise its results.
No blisters- Applying crushed watermelon slices on the face every night before going to sleep can make your face blister free and no plumps. It also works on wounds, any skin rash and cracked lips.
How To Use Water Melon for skin ?
You can massage your skin with a watermelon slice.
You can simply dab a cotton ball in watermelon juice extract and apply it on the face after cleansing it. Leave it for 15 minutes and then wash with cold water.
If you desire to make a face cream using watermelon juice, just add honey or yoghurt to it and apply it on the face and neck.
Equal portions of watermelon and cucumber pulp mask can also be prepared to remove sun tan.
Some useful hacks to make your life easy:
Usually, there is a lot of wastage when you peel and cut the watermelon, scrape out those extra bits, squeeze out the juice. Use an icecube tray to freeze this juice. Rub these juicy cubes to give your skin a quick hydrating and cooling effect. (Now you know what you need after spending a sunny day on the beach!)
Here is a lazy girl hack, squeeze out the juice and keep it in a spray bottle. Your low cost and super effective hydration face mist is ready!
For all the multi-tasking superwomen, here is a multi-tasking hack! Use watermelon juice to mix your favourite mask. The goodness of watermelon and your favourite mask together!
OK, so this is my personal favourite. I almost dread the idea of juice dripping all over, so here's what I do. Dip a facial masking sheet in watermelon juice and apply it! Don't have masking sheets? I got you! Dip thin sheets of paper tissues or even better, use toilet paper in the juice and place it over your face. Voila, you just rocked the Hack-World! (Why toilet paper? Because normal face tissues are thick as compared to toilet sheets and hence they tend to fall off the face)