The New Age and its ever-evolving panorama of alternative wellness can sometimes be overwhelming! From Reiki to Plant medicine, from Holistic healing to Ayurveda, with a plethora of available options, information overload (thanks to the internet!) and the ever-growing interest for improving the overall immunity (thanks to Covid-19!), health and wellness have become trickier and a never-ending topic! Read on to know about my first Hijama experience!
I love to try new things with a lot of curiosity, a pinch of a healthy dose of sarcasm! I love to document my experiences with nothing but good intentions, hoping it might help someone. It is safe to say, 'I try things so you know what to and what not to!'
While writing this post, it has been a little more than 24hrs since I had my first Hijama or Wet cupping experience in Dubai. To familiarise yourself with Hijama or Wet cupping, don't forget to read my previous blog post on Hijama. You can learn all about its benefits, procedure, etc. in that post.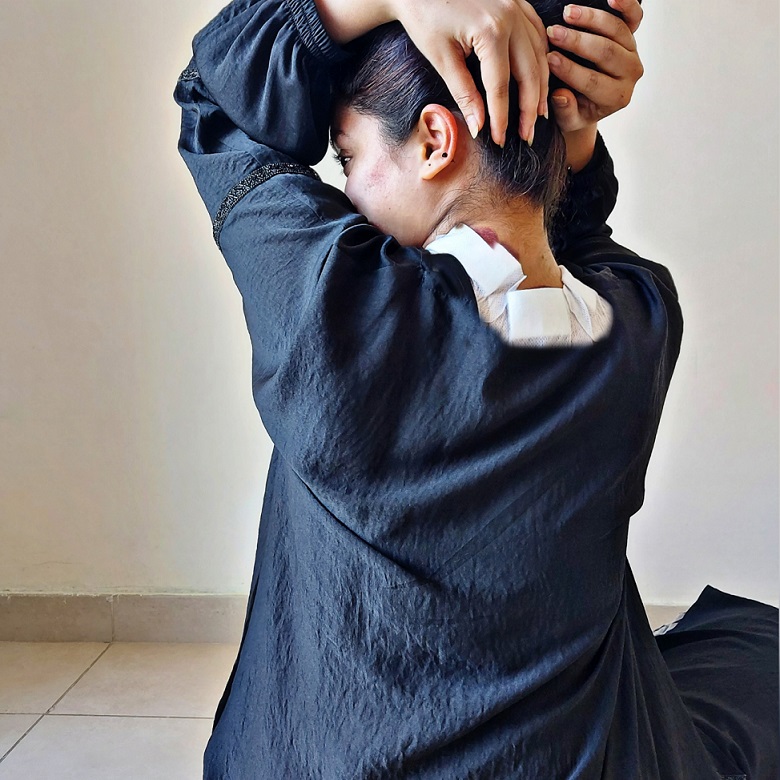 Before the Hijama session:
I read articles to familiarise myself with the Hijama process. I also read people's experiences etc, to mentally prepare myself. Bearing in mind, I am scared of needles as well as blood, convincing myself for Hijama wasn't a cakewalk! I was so sure I was going to chicken out at the last minute! Anyway, I took a nice long shower (as you can't taker a shower after the Hijama session for 24hrs). I was suggested to have a proper meal and drink plenty of fluids before going for the session.
Take a nice shower.
Have a proper meal, drink plenty of fluids.
Prepare yourself mentally.
Read to know what to expect!
Be clear of your expectations.
At the clinic:
First, my vitals were checked and then I was requested to fill out a form and mention all the details. By this time, I was on the verge of running away yet I tried to stay calm! I then met my Hijama expert and her assistant. I discussed with both of them and cleared all my doubts. I also asked her about the Dos and Dont's etc. Talking to her helped a lot and calmed me down! I tried to remain focused and think about all the positive effects it will have on my body and overall immunity!
Talk to your Hijama or Cupping expert.
Clear your doubts.
Don't hide anything from the doctor.
Tell the doctor if you suffer from any ailments so they can decide what is best for you.
During the session:
My Hijama session lasted for less than 15 minutes, from the moment I was asked to lie down to the moment I thanked my doctor! I was suggested to go for 11 cups and was asked to come back after six months or so. The number of cups and the next session varies from person to person and will be communicated to you after the session.
Keep calm and breathe normally.
Divert your mind to something nice (Do lots of Dua)
Talk to the doctor if you want the pressure to be reduced.
Tell the doctor if you have any discomforts, etc.
After the session:
I almost cried (with joy!) of course after my Hijama experience! I drank some water and ate few dates. I was asked to sit and inform them in case I felt any abnormality. I was asked not to swim, or work-out or do any rigorous physical activity for the next 24 hrs and avoid eating unhealthy.
For next 24 hours-
Avoid taking a shower.
Do not apply anything on the Hijama points unless prescribed by the doctor.
No Caffeine, alcohol, sugary foods and drinks.
Stay hydrated.
Do not go for a massage.
Do not work out or swim.
No weight lifting.
Do not eat red meat or any dairy products.
Overall experience:
I wasn't expecting the Hijama session to be that smooth and that painless! The pictures of people bleeding had left me with sleepless nights. To my surprise, it wasn't painful at all! That night, I slept like a baby. I didn't have any major pain or discomfort etc. I had bruises (completely normal and they go away in less than a week)) and slight discomfort due to the bandages (that I removed soon after!) I had slight pain in my lower back point but it also faded after resting a bit. I did feel a little itchy and slight discomfort in lying on my back.
The charges were 150 aed per session and the doctor recommended 11 cups for my Hijama.
Feel free to ask me if you have any questions regarding my Hijama experience!