Shuweihat Island- A hidden gem, a pristine beautiful beach in the UAE that will enchant you with its beauty! This place is perfect for camping (Both day and night), a lazy day by the beach, for capturing amazing shots, for star-gazing and much more. It is a place that will make you forget everything in this world. In this article, learn everything about this magical place and how to reach there
Perfect for your next Road Trip in UAE- Shuweihat Island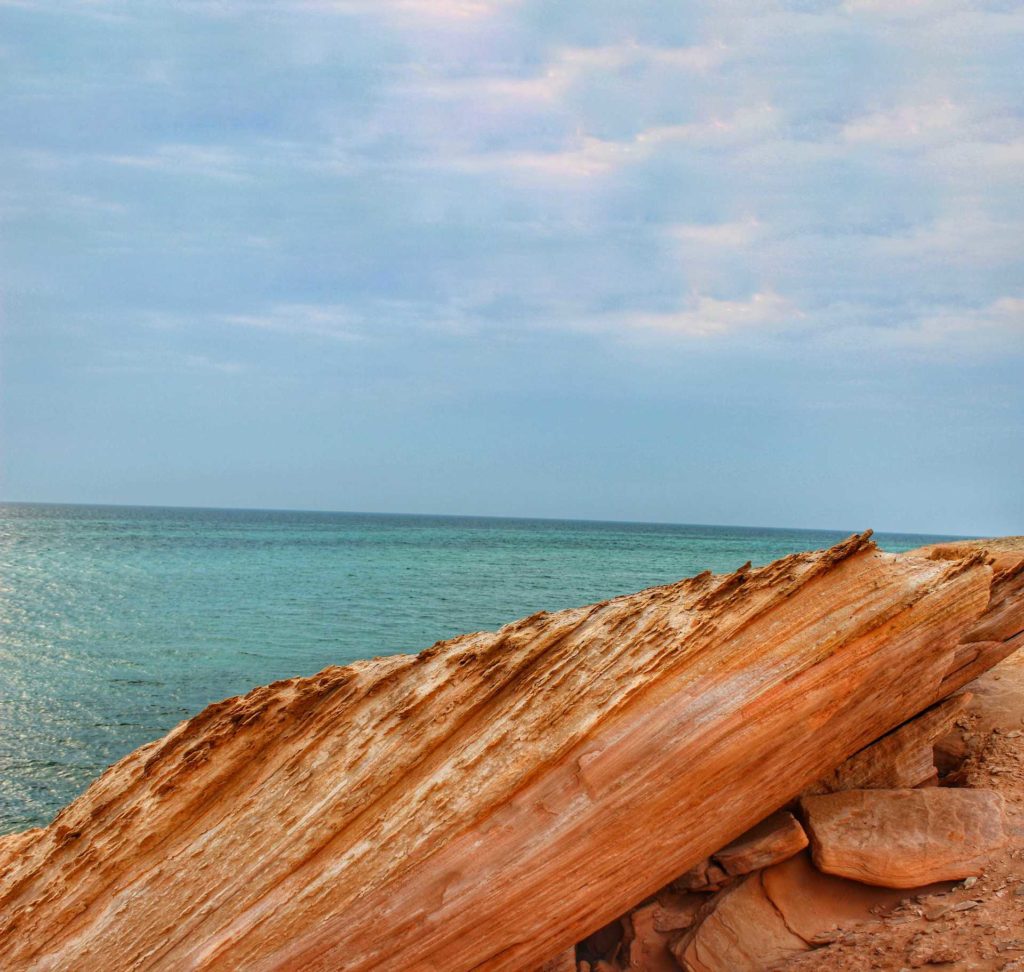 Shuweihat Island-
As we all know, The UAE is blessed with a coastline that stretches over 1,318 kilometers but some people never really go out and explore it! In this post I will be talking about Shuweihat Island, a place for those who admire beauty of nature, texture and sea! The further you go, the prettier it gets.
Reaching this place is a task in itself but the rewards to anyone who makes this epic journey (from literally anywhere else in the UAE) to this stunning location are innumerable. The low-lying cliffs, caves and turquoise blue water will remind you of Petra and Bali at the same time! (Did I say, it's the best of both the worlds!) The formations here are difficult to be found any where else in the country, so be ready to be amazed.
Ideal for a scrupulously planned, long weekend or a full day camping, Shuweihat is about as far west along the coast as you can get before you're faced with the Saudi border – not too far past the town of Ruwais. You will need a four-wheel drive vehicle to get across the causeway and over the rocky headland, whereupon it's best to disembark and scramble down to the water's edge. You won't believe your eyes – this place is so beautiful!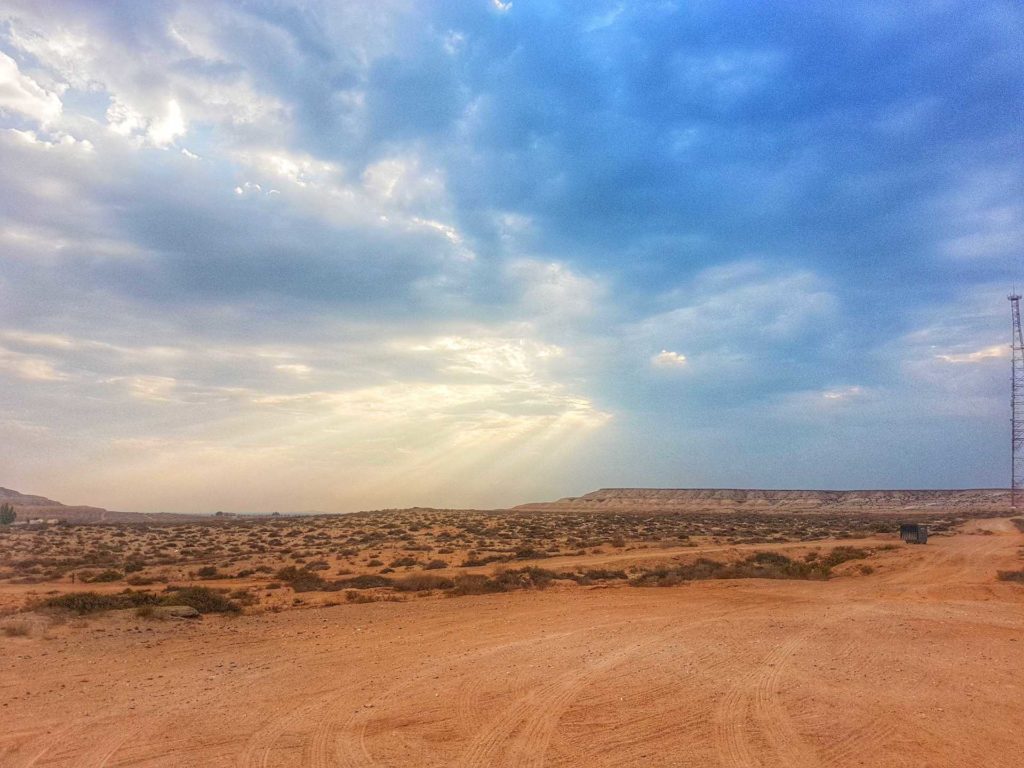 Travelling from Dubai-
Important points that you need to keep in mind:
Busy road with lots of trucks.
There are Not enough petrol stations. (When I say not enough, I mean hardly any!)
This road will turn you into a Professional Truck Over-taker! I am serious!
Keep track of the speed limits.
Carry enough water, food, trash bags etc.
Reliable GPS. (Don't worry, even with the GPS you are bound to be lost!)
It's a long drive, make sure you have a good company! I was very lucky! 😉
Let's talk about distance-
Somewhere between 370 to 500 kms depending on which route you take.
3 h 23 min (369.4 km) via E11 and Abu Dhabi – Ghweifat International Highway /E11
4 h 16 min (455.8 km) via Abu Dhabi – Ghweifat International Highway /E11
4 h 31 min (491.9 km) via Dubai – Al Ain Rd/E66 and Abu Dhabi – Ghweifat International Highway.
What you need to carry-
Clothes-
Swimming trunks (Quick dry clothes).
Jackets/Pullovers
Extra pair of clothes
Towels
Shoes (Climbing the rocks in slippers is strictly a No-No!)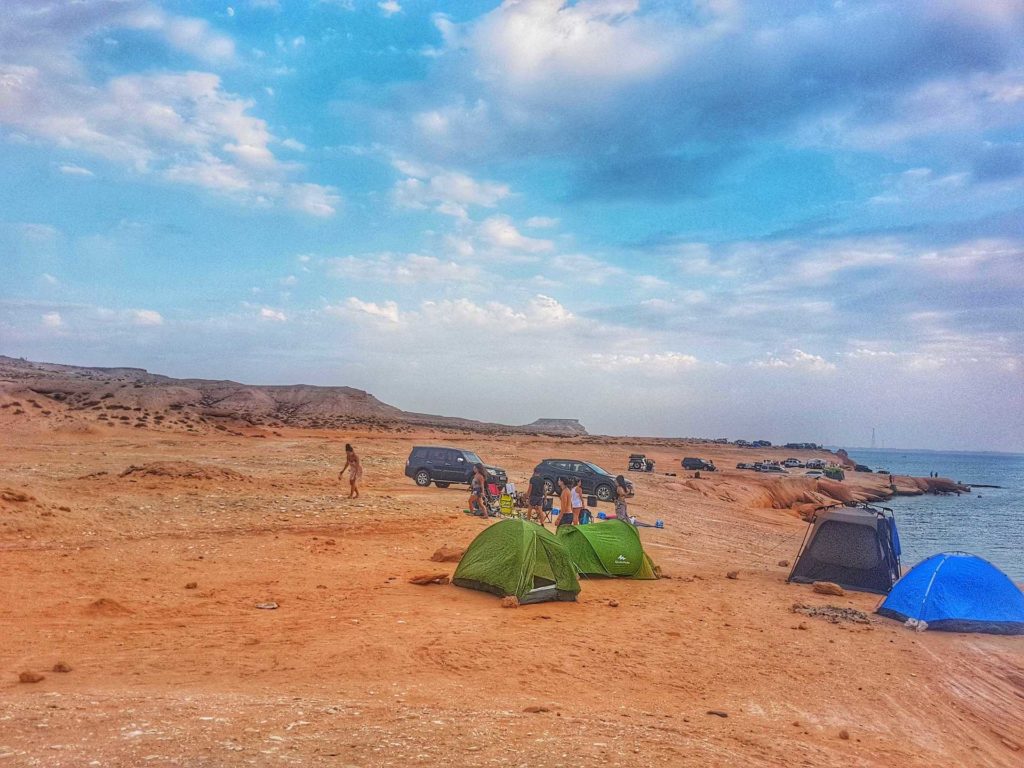 Camping (Day)-
Tent (Recommend but not essential.)
Mat
Chairs
Sheets/Blanket (Depends on the weather)
Other Camping essentials (Be cautious about the fire equipment, etc)
Lights and torches
Plenty of Water and Food (Very Important! There is absolutely nothing in this area.)
Other-
Trash bags (Leave nothing but foot prints, take nothing but photos!)
Tissues/Wet tissues
Speakers ('Cause Music makes everything better!)
What to expect:
Reaching this place is not easy (Our car, I assume, cursed us all the while! Got stuck so many times. Lost our way and what not! but once we reached, we forgot everything and were Awestruck! So, don't be scared of embarking this journey. You will forget everything and I can assure you, that you will be looking forward to visiting it again!
Before you reach-
Sand dunes
Boulders
Rocks
Narrow paths that make it almost impossible to drive.
After you reach-
Clear Blue water
Magical, mysterious looking rock formation.
Heaven for photographers.
Kayaking (Only if you carry your own kayak)
Beautiful landscape
Hidden Caves (Yes!)
and much more! (Check the pics!)
All in all, come what may, this road trip from UAE, should be on your list! Remember to be responsible and don't do anything that might harm the environment. "Leave nothing but footprints, take nothing but photos!"
Some Useful links for you-
Love travelling? Learn how to travel for free here!