Review for Palmer's Body Firming Sheets. All your questions regarding Body firming sheets are finally answered!
Summer is here which means Beach, Bikini and a Beach Body.. but what if your body still keeps giving you this Error?!
ERROR: Beach Body still Not Found.
Well, I got you! In fact, Palmers got you!
Read on!
What is it?
Coconut Body Firming Sheets by Palmers. For everyone who thinks Sheets are only meant for Face, Palmers is here with a revolutionary innovation in the sheet mask category. The sheets are supposed to be used on areas that need toning or firming like upper arms, stomach, thighs, buttocks, etc. Body firming sheet DOESN'T MAKE YOU SLIM, it makes the skin firmer and toner, hence makes it appear Slimmer.
What does it do?
It is a concentrated sheet mask designed to fit body's shape and curves. These sheets deliver targeted toning to areas such as thighs, hips, stomach, upper arms or buttocks and results in a firmer, toner and smoother appearing body. *Starts preparing for the beach party*
What do Palmer's body firming sheets contain?
The following ingredients pack a powerhouse of toning magic into every drop and this is how they work together:
Coconut Oil – Provides all-day hydration to keep skin looking healthy.
Vitamin E – Helps ease fluid retention and supports skin firming.
Sweet Almond Oil – Improves skin's elasticity and helps tone.
Caffeine – Improves circulation for a smoother appearance.
Aloe Extract – Improves skin's elasticity and helps in toning the skin.
Guarana Extract – Provides twice the potency of caffeine for a (Hurrah!) slimmer and more toned figure.
Capuacu – Improves skin's moisture barrier and offers hydration for improved elasticity.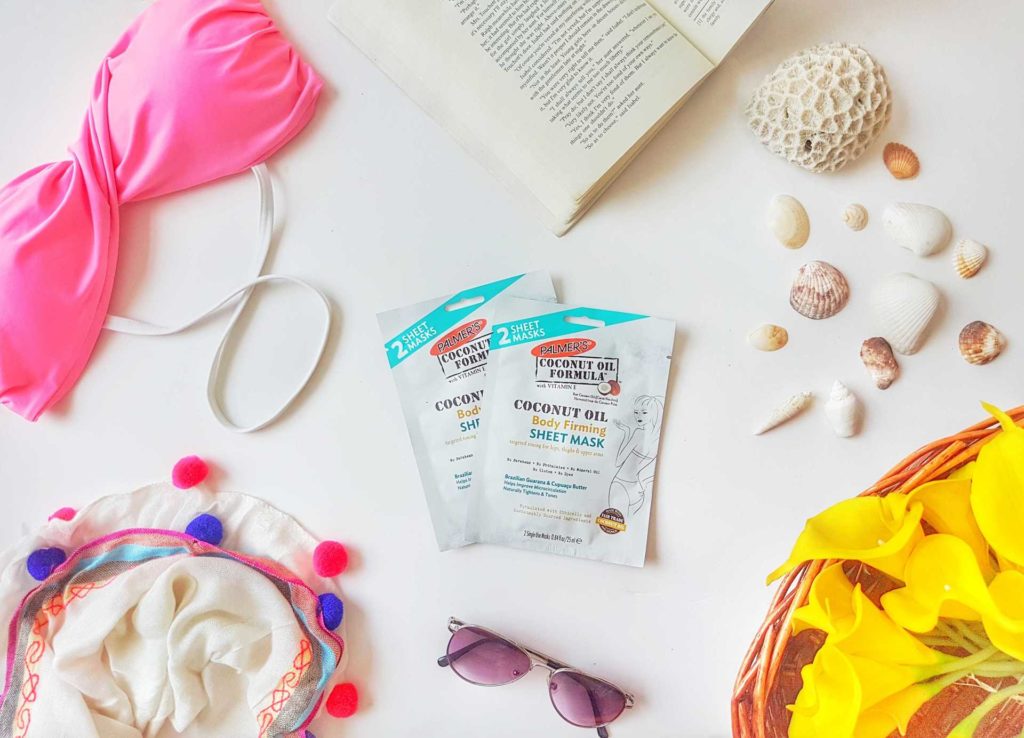 How to use?
Step – Use on the clean and dry skin. Carefully remove the sheets from the pouch.
Step – Apply to the target area, such as upper arm, thigh, stomach, hip, or buttock. Gently press to smooth into place. Repeat on another side with the second sheet (Each pouch contains 2 sheets).
Step – Leave the sheet on for 10 minutes. You may feel a cool, tingling sensation. Remove the sheet, massage excess product into the skin. Tadaa! Say hello to your Firmer-Self!
Personal Experience-
Each pouch has 2 sheets inside it, I decided to use them with a gap of 2 days in between each application to see how it feels like! I decided to use the sheets on my outer thighs, which I feel do need some toning. (I used the sheets post bath, on towel dried skin) The sheets are completely soaked in a thick yet not sticky lotion. To be honest I love the smell! Placed the sheets on both the sides and pressed gently and left it for 15 minutes (The pack said 10 minutes but I got so lost in reading the ingredients that I forgot to remove them!!)
I felt a very little tingling sensation, thankfully it was not uncomfortable at all. After removing the sheets and massaged the excess lotion into the skin. Was really tempted to use the same sheets on my tummy as it still had a lot of lotion left! LoL
As a result, the skin looked so hydrated and needless to say smelled so good! To my surprise, yes it did work! I could see how the skin looked more toned and firm. Surprisingly, after second application (after 2 days) few of the stretch marks also disappeared!! Which I didn't even expect as I was hoping only for firmer and toner thighs!! (Yayy!! Bonus!!)
Will I repurchase?
Yes! Apart from using these sheets, I think these will make a perfect gift, so I will be purchasing them for gifting as well.
Read more product reviews here