Like many of you, I've been a huge fan of Bear Grylls Explorer Camp for as long as I can remember! I used to get an adrenaline rush just by watching him on the TV on the famous Man vs Wild. Growing up, I would watch his shows and see him survive in the wilderness all on his own and then I would daydream of doing the same someday! Fast forward to this day, I had a chance to visit and experience World's First Bear Grylls Explorers Camp in Ras Al Khaimah (Dreams do come true!)
The world's first Bear Grylls unique outdoor lodge, nestled on the UAE's highest mountain, Jebel Jais, is an incredible experience in itself that shouldn't be missed. Opened its doors for visitors on March 3, 2021, and since then has been in news for all the right reasons. In this post, learn everything about Bear Grylls Explorers Camp in Ras Al Khaimah.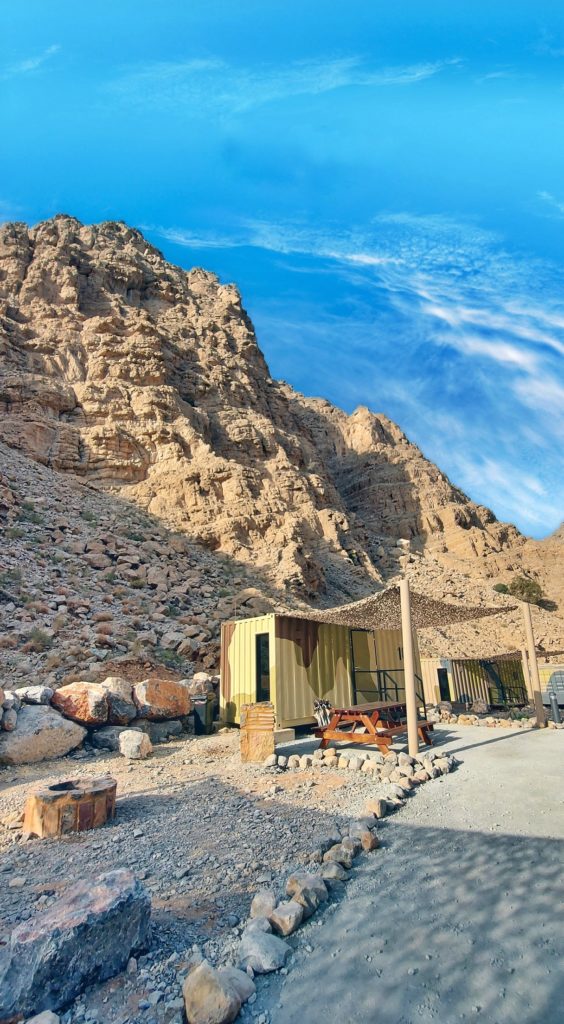 Bear Grylls Explorers camp- What is it?
Set in the lap of nature, Bear Grylls explorers camp is ideal for individuals as well as groups. Strict safety protocols and social distancing measures are followed always. It is an ideal experience for the growing number of travellers who want to escape everyday hustle and bustle of city life and reconnect with nature. What makes this camp stand apart from the rest is that one can learn some important survival skills here from the experts. There are plenty of exciting instructor-led survival courses as well as activities like mountain biking, mountain climbing. There are also some self-guided and instructor-led hikes available. You can learn practical and extreme survival technique, such as how to make a fire in the wild, how to build a shelter, how to manage extreme weather, etc.
The lodges are designed to accommodate up to three adults, or two adults and one child, with self-catering facilities, that also includes a private BBQ to prepare meals. Cabins made up and equipped with reusable plates, bowls, cutlery, mugs BBQ tools, etc. while there is also an on-site shop that provides other amenities like food items, firewood, toiletries, etc. that can be purchased as and when needed.
Bear Grylls Explorers Camp is about reconnecting with nature while learning some important survival skills. While being in the camp, amidst the wilderness, one gets a marvellous opportunity to awaken and ignite the camper's spirit and relax. The camp is located in a flat Wadi and there literally nothing nearby except for raw nature. From the camp, it's around a 20-minute drive to the top of Jebel Jais, where you can find other attractions like the world's longest zip line, the UAE's highest restaurant and numerous viewing platforms.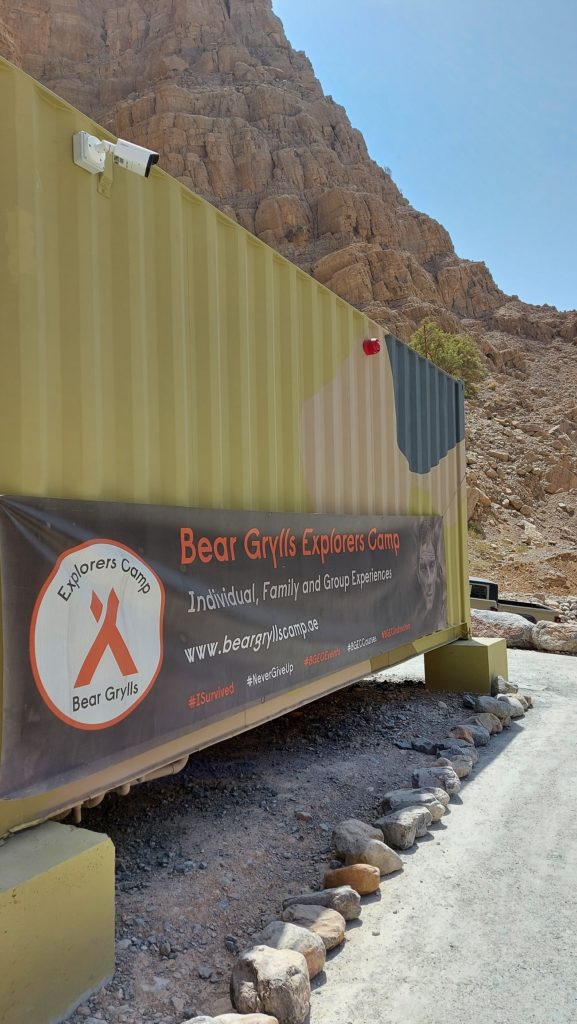 The lodges
Honestly, at the Bear Grylls Explorers camp, given that the experience is all about survival and reconnecting with nature, I was bracing myself to encounter the worst! As I entered the upcycled shipping container cabin, I was taken aback by the amenities provided! Do not compare it with a 5-star hotel, that's not what it is about! The exposed wood walls giving the cabin a very raw and rustic feel. It has what it needs and in fact more than what I expected! A double bed, pillows, blankets, a ladder leading to a single bunk above (that made me so ecstatic!). You can check more here. Each cabin also has a fridge, kettle, air-conditioning and ample storage, an attached toilet with all the basic amenities. The windows give a view of the picture-perfect mountains.
Insider Tip
Remember to go through the website and pack according to what is and isn't provided. Bear Grylls Explorers Camp is a survival experience, so you do only get the bare minimum in the room. You won't find things like towels, hand soap, toothpaste, shower gel or teas and coffees waiting for you in your cabin, so ensure you pack everything. Carry your food, drinks, etc. with you. Also, think beforehand about what activity you would want to go for. You can bring your dog! (Yes!) Two dogs are also permitted per cabin, at an extra cost of Dh50 per dog. Pets must be kept on a leash at all times in the camp. Carry pet food, belongings etc. with you. Take benefit of the ongoing offers from their website.
The bottom line
If you are looking for a raw and an out-of-the city break minus the mundane UAE staycation luxuries, if you are willing to learn about the survival skills or take up some courses in some of the country's most breathtaking scenery then the Bear Grylls Explorers Camp needs to be on your list. Hope you enjoyed reading it as much as I enjoyed exploring it, don't forget to read more travel-related posts here.