"Why", "What", "How" of Shea and who needs to try the Raw Shea Shampoo and Conditioner by Palmers.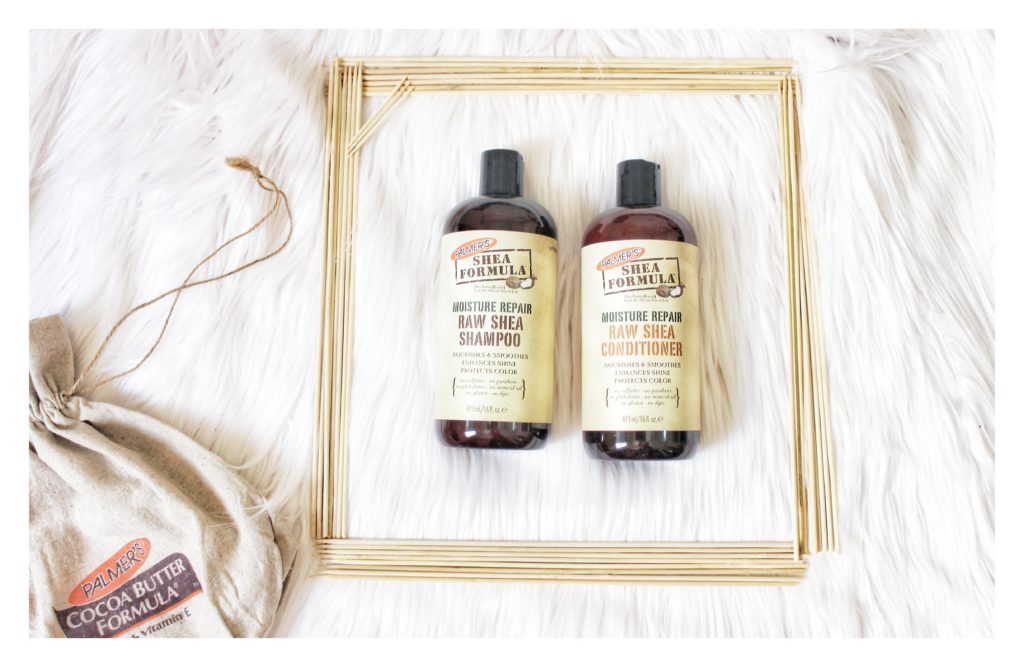 Review for Raw Shea Formula Moisture Repair and why you need to try these two products. Unless you have been hiding under a rock the past several years, you most definitely heard the word, Shea, as in Shea butter, floating around! It's used in hair and skin products the world over, people swear by it!
The name Karité means the Tree of Life, due to the multitude of important uses that Shea butter provides.
What is Shea Butter?
Shea butter is a fat extracted from the nut of the African Shea tree. It is usually yellow in colour when raw, with Unrefined, refined, and Ultra-Refined Shea butter being ivory or white in colour. In olden days women in Africa used raw Shea to moisturise their hair and nourish their skin. Shea butter not only helps in moisturising, but it also helps in repairing and restoring. It is said to protect hair and skin from the harsh sun.
Why Shea Butter and what are its benefits?
Anti-ageing Properties
Protection against sun exposure
Natural moisturizer
Promotes hair growth (though not proved yet people claim that they noticed positive results)
Can help reduce skin inflammation
Can help protect your hair from UV rays and environmental pollutants
Which one to use?
The best form is Raw Shea butter that has not been processed or bleached and is free from any artificial colouring and fragrance. Not all forms of Shea butter are good for usage. Many cheap quality shea butter available in the market that might do more harm than good.
Let's begin our review for Raw Shea Formula Moisture Repair
Plus point-
Like I mentioned Raw Shea is of the best quality and is best for usage, Palmer's has ensured that consumers get the maximum benefit and hence has used Raw Shea for these products.
No Sulfates, or Parabens,
Free from Phthalates,
Doesn't contain Mineral oil,
No Gluten or Dyes.
Ethically traded and sustainably produced.
I appreciate how Palmer's is against animal testing.
Contains-
Raw Shea Butter – Helps in Deeply moisturising and repairing hair.
Argan Oil – Enhances vibrancy and shine.
Grape Seed Oil – Protects against colour fade and dullness.
Details-
As I mentioned Raw Shea is best, Palmer's has used Raw Shea in these products to ensure that maximum benefit can be obtained. Shea butter is rich in Vitamin E and A. It is used to prevent weak hair from breaking, fading or thinning out; to prevent dandruff, and revitalize split ends. Shea butter will protect hair from the damaging rays of the sun, hairdryers, perms and dyes. Unlike petroleum-based products, it will not clog pores and block hair shafts. It is used as a conditioning sheen to maintain hair's natural shine and improve manageability.
My Personal Experience-
I am very wary when it comes to using any hair care product, I research for the ingredients, their effects, research about the brand before I decide to use it on my hair. Since I had already used Palmer's for my hair before I saved time and researched only about Shea butter! I have very dry and frizzy hair, I was more than excited to use these products as Shea Butter is well known for its moisturizing properties.
I liked how it doesn't have a strong fragrance, the fact that it doesn't contain Sulphates or Parabens also won my heart even before I used it. the shampoo doesn't dry your hair out, it also doesn't lather much.
Firstly I used it without applying the conditioner and I noticed that my hair was pretty much manageable. I used it next with the conditioner, it made my hair way much manageable and smooth. Raw Shea Shampoo and Conditioner is gentle on the scalp, though I have a sensitive scalp I did not notice any itching or dandruff post using it. The conditioner is not heavy on the hair and doesn't make your hair limp. The smell of the products is not very strong or overwhelming.
Buy Online Palmers Raw Shea Shampoo and Conditioner here.
Final Verdict-
Highly recommended for people with dry and frizzy hair. Don't forget to tell me if you have used this product or if you have any questions/comments. Read more such reviews here.