Summer is here and for a person who believes in the saying "Sun over my head and feet in the sand" it is a tough task to ensure that summer sun doesn't leave me dull and dry 🌞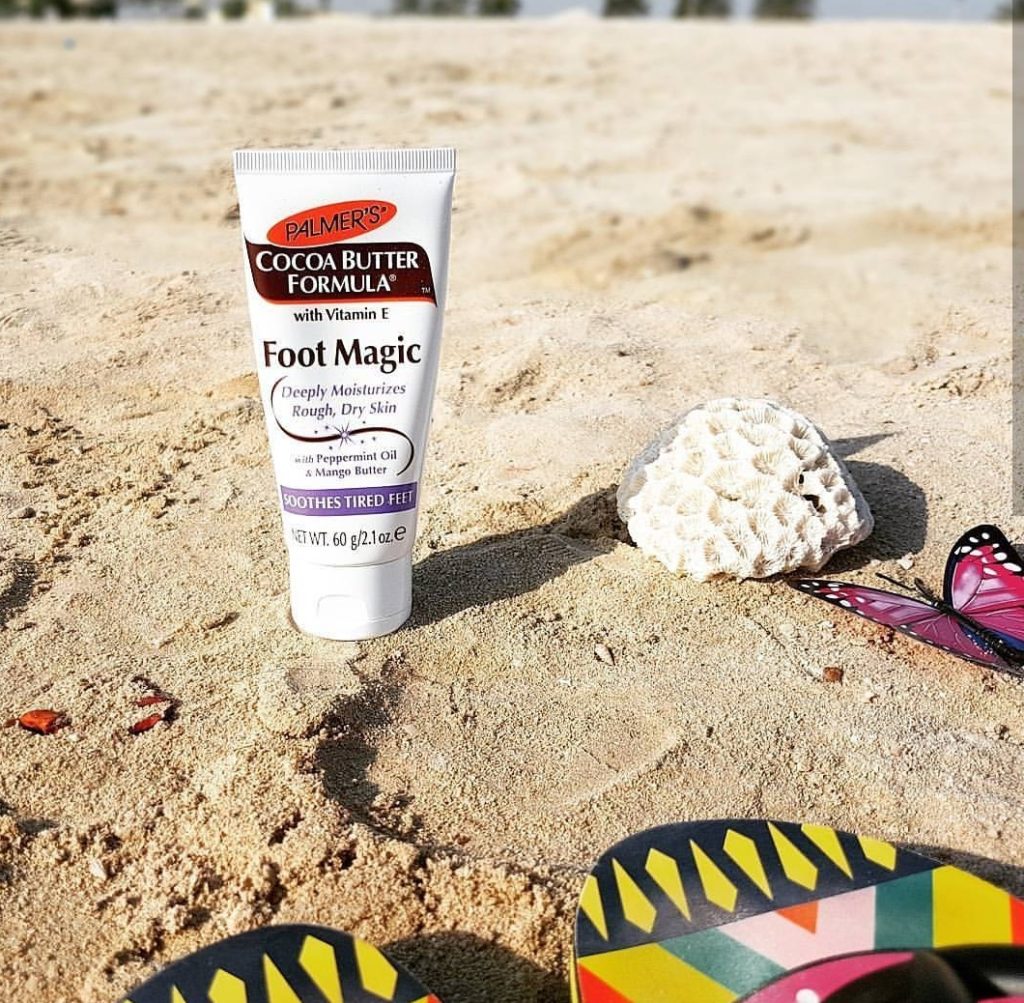 I have noticed that my long walks on the Beach often leave me with dry and dull feet. Which is a strict No-No. (Imagine all those cute flip-flops that you CAN'T wear because of cracked heels and rough skin) This is where I came across Foot Magic by Palmer's.
So I am constantly looking for foot creams and oils to hydrate and keep my feet Happy! I am glad to tell you that My eternal search has finally ended as I have found a solution to my woes.
Read on to know How my search ended on a happy note!
Product used- Cocoa Butter formula Foot Magic by Palmer's
Plus points- Palmer's never test their products on animals (Always make sure that you read about this), free from harmful chemicals and Parabens. Softens rough skin without making it greasy, is effective right after the first application.
Main Ingredients-
Peppermint Oil
Mango Butter
Vitamin E
Cocoa Butter
My Experience-
So I Cleaned my feet and applied the cream at night and then covered with cotton socks, as mentioned in the directions to use. The consistency is thick like butter but gets absorbed without giving that sticky feeling. Peppermint gives a cooling sensation, Shea butter smoothens the rough skin and Vitamin-E hydrates it. In the morning you will notice a positive difference. The skin around the heels feels smooth, you will notice that the ridges have reduced and the skin looks hydrated.
I Repeated this for 5 days and the result is difficult to ignore! 👣I have super soft skin and there are no signs of rough skin anymore. For me, It's Time to hit the Beach Again, without any worries! I am stepping out with confidence, Thanks to Palmer's. Read my review for other Palmer's products here.
This Foot Magic by Palmer's is highly recommended for people who suffer from cracked heels and rough skin. For best results apply it daily at night and wear cotton socks.
Buy online Palmer's Foot magic here.
Hope you enjoyed the review, I need to rush as It's Time to hit the Beach Again!😉
Don't forget to tell me how do you solve the issue of cracked heels?